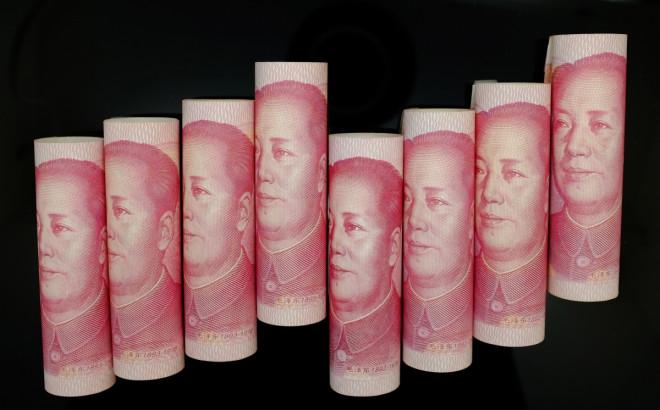 China's currency has fallen to its lowest level in more than a year as the country's central bank is looking to curb its appreciation to stop undue speculation.
The yuan was trading at 6.11 per US dollar as at 7:30 am GMT, down 0.2%, continuing its slide for a sixth day. The reference rate, which is set by the central bank daily, is at 6.1184 on 25 February. The currency is currently allowed go 1% higher or lower from that point.
This weakness in the currency is rare and comes at a time when the country's money market is flooded with liquidity.
Since July 2005, the yuan has advanced 35% against the greenback, the best performance among 24 emerging market currencies tracked by Bloomberg.
The recent depreciation in the currency indicates that the People's Bank of China (PBOC) is moving away from allowing a steady pace of gains with a view to reversing "hot money" inflows into the monetary system, according to analysts.
"The PBOC is engineering the yuan declines, which might mean the central bank wishes to change the perception of the one-way bet on yuan gains," Bloomberg quoted Kenix Lai, a Hong Kong-based currency analyst at Bank of East Asia Ltd.
"It also looks like the PBOC is introducing two-way volatility as it prepares the renminbi for a wider trading band."
In addition, a report published on financial-services site Xinhua08.com warned of the excessive liquidity caused by cross-border carry trade and excessive capital inflows.
"Expectations of an appreciating yuan, and the yield spreads between the yuan and foreign-currency assets, have encouraged carry-trade activities to grow, which have worsened already excessive liquidity in China and offset the central bank's efforts to drain the money markets after the Lunar New Year Holiday," said Liu Dongliang, a senior analyst for China Merchants Bank said in the report.
Temporary and Moderate Decline
China is likely to double the yuan's trading band to 2% in the next two to three months, according to a research note by JPMorgan Chase & Co economists, who added that the decline in the currency would be moderate and temporary.
China widened the yuan's band in April 2012 from 0.5%, and before that from 0.3% in May 2007.
The currency is expected to strengthen 2.4% in the remainder of this year, based on the median estimate in a Bloomberg survey of analysts. That is the second biggest gain after Mexico's peso among emerging-market currencies, according to Bloomberg.