Activists are calling for a boycott of this year's Yulin Dog Meat Festival, where thousands of dogs are slaughtered and eaten in China's Guangxi Zhuang Autonomous Region.
It is estimated that around 10,000 dogs were killed and eaten at last year's Yulin Summer Solstice Dog Meat Festival.
Ahead of this year's event, due to take place on 21 June, activists across the globe are calling for a halt to the event, with over $20,000 (£11,900) raised by one campaign to help rescue dogs and track those illegally capturing and killing the animals.
A report in China Daily notes that the dog meat festival in sothern China involves eating a meat hotpot and drinking strong liquor – and that it is a cherished tradition among local residents.
However, activists including celebrities, lawyers and food safety experts are calling for an end to the practice. Chinese pop stars Chen Kuna and Yang Mi have supported campaigns against the festival on China's sina Weibo.
An animal rights lawyer in Beijing said that official claims that all dogs are bred by local dog farmers is false. An Xiang said according to research there are no such farms and that all dogs are abducted from the streets.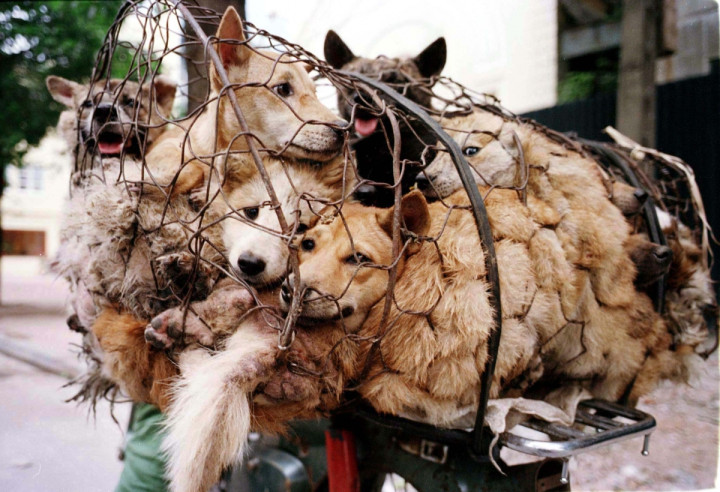 Another risk factor highlighted is poor food safety. Liu Lang, director of the Beijing Small Animal Veterinary Association said butchers slaughtering the dogs are at risk of rabies, while the meat is not properly quarantined or inspected, increasing the chance of food safety problems.
The Duo Duo Animal Welfare Project, based in California, has raised $21,920 on crowd-funding website Indiegogo in its campaign Stop the YuLin Dog Meat Festival.
"Our goal is to put an end to the brutal annual dog meat festival in YuLin, China," it said. The money will be used to hire local investigators to track the illegal abduction of dogs, raise awareness of the trade through schools and hiring of legal teams in China to push for the banning of the festival.
However, local residents say animal rights activists should not interfere with the festival. One local told China Daily: "It is our tradition and our right to eat dog meat. If we are cruel and brutal, what about those who eat pork, beef and chicken?"
An opinion piece in the Global Times said that banning the festival outright will not work due to the widespread participation, so instead authorities should work to implement stricter regulations to improve safety and welfare.
"Since there are no specific laws and traditional culture cannot be forcibly abandoned, the local government should shift their attention to a more feasible approach.
"If the tradition is difficult to remove in a short period of time, the authorities need to initiate and carry out more strict rules regulating local restaurants, especially food hygiene. There must be harsh measures to ensure the source of the dog meat is legal and safe. A crackdown on stealing domestic and stray dogs must be imposed," the article advised.