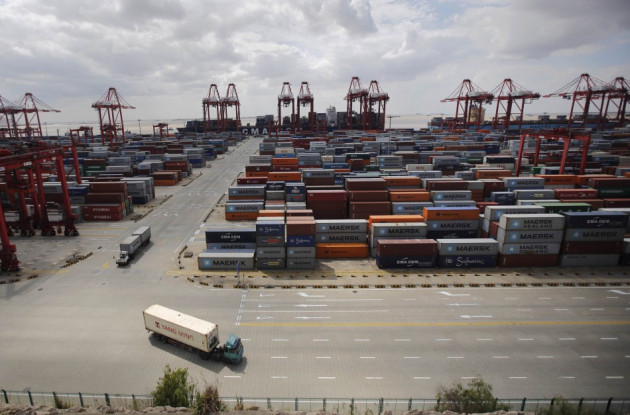 Chinese exports rose above economists' expectations in October following a decline in September, easing pressure on the country's leaders.
China's National Bureau of Statistics said exports rose 5.6% in October, compared to a 0.3% fall in September. Economists expected an export growth rate of 3.2% for the month.
Meanwhile, imports rose by 7.6%, compared to a 7.4% rise in September. Analysts expected a growth rate of 8.5%.
October trade surplus rose to $31.1bn (£19bn, €23bn), the biggest in 2013, from $15.2bn, well above analysts' consensus for a trade surplus of $23.9bn.
Exports for the month mostly benefited from rising demand from the US and ASEAN economies. Shipments from China to the European Union increased 12.7% from a year earlier, while those to the US were up 8.1%.
Meanwhile, exports to Japan declined due to continued political tensions between the Asian countries and a weakening of the Japanese yen.
Stable Growth and Job Market
Chinese Premier Li Keqiang earlier said the country's economy needs to grow at a rate of 7.2% to ensure a stable job market in the world's most populous country. Growth at that pace would create 10 million jobs per year, according to Li.
Li added that the expected decline in exports would hurt the job market, as these can directly create about 30 million jobs and add a further 100 million jobs in related industries.
"If the exports drop sharply, it would bring employment problems," he said.
Chinese authorities are concerned about declining trade competitiveness due to appreciation in the yuan (RMB) and rising costs.
China is currently the world's fastest-growing major economy with annual gross domestic product growth rates averaging 10% for the last 30 years.
However, the global economic crisis did also impact China, following its growing ties with the international markets. Economic growth has slowed down in 11 of 14 previous quarters. The country's economy grew by 7.7% in 2012, the slowest pace in 13 years.
Even though the economy has rebounded in the third quarter, China's leaders wanted the country's growth to be based on domestic demand.
They are expected to unveil far reaching reforms at the Communist Party's third plenary session, a four-day meeting of China's top 200 politicians starting from 9 November.
Trade Surplus and Yuan Appreciation
The growth in trade surplus suggests that "appreciation pressure on the RMB will likely mount in the foreseeable future," according to Li-Gang Liu and Hao Zhou, economists at ANZ Research.
The currency has appreciated about 2.3% against the dollar this year, the most among 11 major Asian currencies tracked by Bloomberg.
While the People's Bank of China wanted a stable exchange rate for the yuan, a pressure to sell US dollars against the yuan in the forward market, indicates that investors are strongly expecting an appreciation in the Chinese currency, according to them.
"The Chinese authorities should encourage private capital outflows and take solid action to introduce two-way flexibility into the RMB exchange rate," the analysts said.