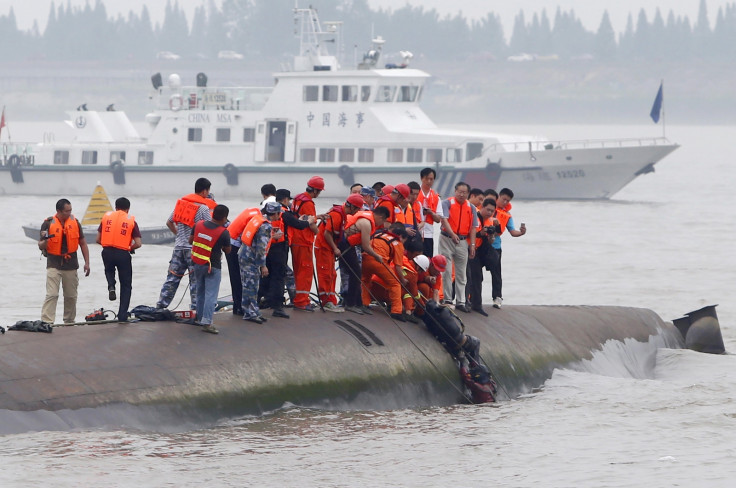 Nearly 430 people are still missing following the boat tragedy in China's Yangtze river and the country is bracing for its worst maritime disaster in decades.
Of the 458 people on board, only 14 survivors have been rescued. Two people were rescued from the wreckage while the remaining 12 were pulled out of the water. Fourteen bodies have been recovered so far.
Chinese authorities are determined to continue with the rescue measures but are being hampered by bad weather conditions.
"As long as there's even a little hope, we will give it 100% and will absolutely not give up," said Transport Minister Yang Chuantang.
Thousands of emergency personnel comprising local authorities, police, and army troops are racing against time to look for survivors of the luxury cruise ship Dongfangzhixing, or Eastern Star which sank in the Yangtze river following a tornado. More than 110 vessels have been deployed in the rescue efforts.
The rescue personnel are working through the night on the upturned hull of the ship, in the dark and choppy waters of Yangtze with little success. The flow of water from the dams has also been reduced so as to bring down the water level at the site of the incident.
"The raindrops hitting my face felt like hailstones. I tried to hold my breath, but water was forced into my mouth anyway," one of the survivors named Zhang Hui told the state-run Xinhua news agency.
He clung on to a life-jacket as he was unable to swim in the backdrop of fading voices from others passengers, who gradually began to submerge.
"Just hang in there a little longer, I told myself," he said. He swam ashore to a solid ground, hours later.
According to the ship's captain and chief engineer, who both managed to survive, the vessel sank "within one or two minutes" since the violent storm, which was later confirmed to be a freak tornado, struck the vessel. A thorough investigation is underway to probe what went wrong in the incident.