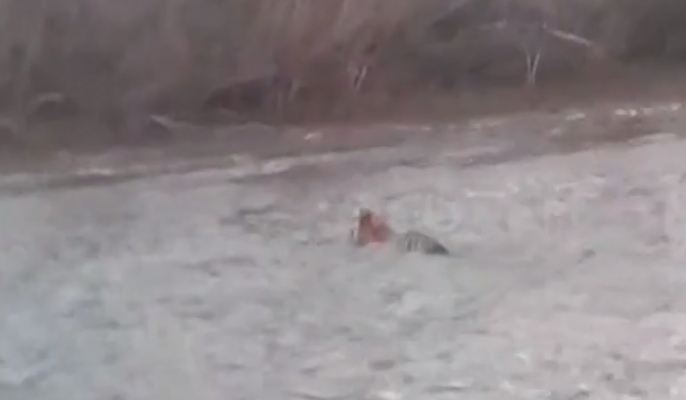 A fisherman has survived after a fight with a wild Siberian tiger who tried to climb on his boat in the Wusuli River, in the Northeast China's Heilongjiang province.
Zhang Mingyu, 32, encountered the feline while he was making a delivery to the Sanjiang Nature Reserve, Xinhua news agency has reported.
"At first, I thought it was a deer, then it suddenly turned round, roared at me and tried to grab the side of my boat," the man said.
"Black and yellow stripes on its head were very clear. It was a tiger!"
In what resembled a scene in Life Of Pi, the award-winning movie by Ang Lee, Zhang struggled to stop the tiger climbing aboard.
"It tried on the other side, and I pushed it back again," he said. The feline eventually gave up and swam off.
Zhang recorded a 10-minute video on his mobile of the tiger swimming in the river.
He sent the video to the Feline Research Centre of the State Forestry Administration.
The Sanjiang reserve sent a team into the field to search for the tiger.
"Thanks to the natural environment here, there are abundant wild animals such as hare and roe deer, the food of the wild tiger. The reserve has become a paradise for the rare beast," the reserve's press officer Wu Zhifu said.
"Locals always say 'these animals do not have an easy life, traveling such a long way for a meal'. The fisherman just whacked the tiger with his oar to frighten it, but would not have hurt it much," he added.
The Siberian tiger, known also as Amur tiger, is an endangered species, with just 500 remaining in the wild.