China is likely to have outgunned the US, Japan and Indian navies with the launch of its first and most advanced domestically-built missile destroyer on Wednesday (28 June). The 10,000-tonne vessel is reported to be among the largest warships in the world.
The "new generation" warship is the latest addition to the rapidly expanding People's Liberation Army Navy that entered the water at the Jiangnan Shipyard in Shanghai, the state-run Global Times reported.
Roughly equivalent to the Arleigh Burke class of destroyer, the ship is equipped "with advanced anti-air, anti-missile, anti-vessel and anti-submarine capabilities," the publication said.
The next step for the vessel is to focus on equipment testing and sea trial, it added.
The giant cruiser, so far known only as Type 005, will reportedly combine nearly 120 missiles, making it one of the most heavily-armed ships in the world. And the PLA is reported to be planning to launch four of the ships.
The yet-to-be-officially-named destroyer is believed to be a crucial addition to China's navy and its future aircraft carrier strike group. It is considered to be significantly larger than China's other modern destroyer and is also a successor class to the smaller Type 052D guided-missile destroyer.
The Type 052D ships are still under production and one such vessel, named Xining, was commissioned in January, Reuters noted. China has commissioned five Type 052D destroyers since March 2014.
According to state media reports, China commissioned at least 18 of these ships in 2016. The fleet will include destroyers, guided-missile frigates and corvettes.
The navy's website flaunts the new ship decorated with multicoloured streamers and Chinese flags and flanked by rows of sailors and shipyard workers.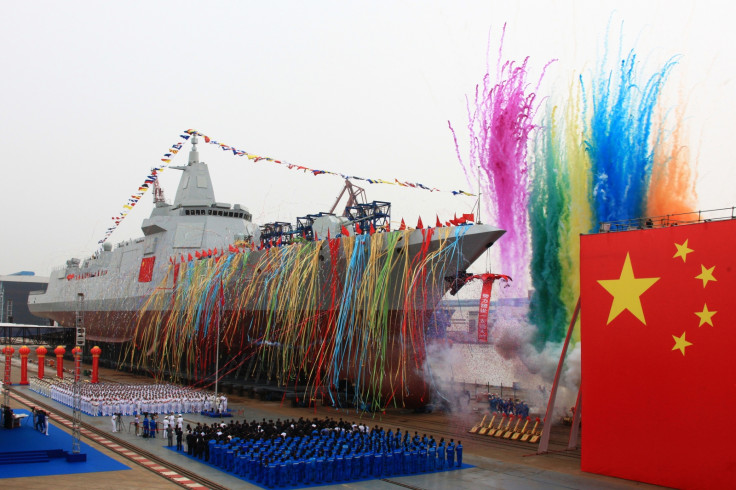 In recent times, Beijing has been producing warships at a rapid pace as it aims to expand its military and naval power at a time of rising competition with other navies like as the US, Japan and India.
According to the Washington-based Center for Naval Analysis, China's PLA is estimated to have a total of 265 to 273 warships, submarines and logistics vessels by 2020, AP reported.
With this, the gap between China and the US Navy is said to further narrow down. The US is China's primary rival in the Asia Pacific, which has 275 deployable battle force ships at present in its navy.
Earlier in April, the communist country launched its first indigenous aircraft carrier, Shandong, in the Dalian shipyard in China's northeast Liaoning province. This was also the second such launch by the communist state.
The first aircraft carrier was the Liaoning, a refitted Soviet-made carrier. The Liaoning was commissioned into the Chinese People's Liberation Army Navy in 2012, while the Shandong, a conventionally powered ship is unlikely to enter service until 2020.