A video showing a female Kurdish fighter laughing after she narrowly escapes being shot in the head by an unseen Islamic State (Isis) sniper has surfaced online.
The unidentified woman, a sniper herself and believed to be a member of Kurdish Women's Protection Units (YPJ) in Syria, is seen taking aim through a window from inside a building during a clash with IS militants in an undisclosed location in Raqqa. The city is the Islamic State group's de-facto capital in the war-ravaged country.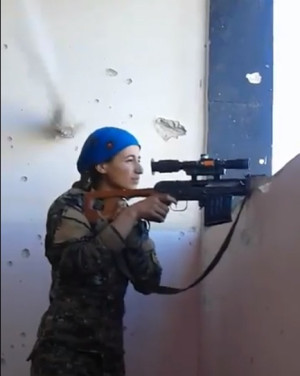 Almost immediately after the woman pulls the trigger of her gun, a bullet can be seen hitting the wall to her left , right next to her head, knocking off the plastering.
The Kurdish fighter demonstrates her bravery after the bullet hit, as she does not even appear to be remotely scared or surprised. Instead she laughs it off as her colleagues can be heard talking without any sign that it shocked them.
It is unclear when the video was filmed but it was uploaded to Twitter on Tuesday (27 June) by Kurdish journalist Hemze Hamza (@Sergermed_) who tweets about Kurdish fighters and Syrian Democratic Forces (SDF).
"Sniper battle inside Raqqa city. Thank god the ISIS terrorist missed," Hamza said in a tweet. "Kurdish women know no fear. Your average human being would be scared for life after being so close to death but she kept laughing."
IBTimes UK could not independently verify the authenticity of the video or identify the female combatant in it.
YPJ is the all-female brigade of the Syrian Kurdish People's Protection Unit (YPG) — both of which are the armed wings of a Kurdish coalition that has taken de facto control over much of Syria's predominantly Kurdish north, Rojava.
One of its famous fighters, Asia Ramazan Antar, dubbed "Kurdish Angelina Jolie" by the Western media for her good looks, was killed as she tried to stop three Isis suicide bomber cars being driven straight at the Kurdish frontline position in September.
The Kurdish fighters are reported to have played a significant role in rescuing thousands of Yazidi women and children, who are treated as sex slaves by Isis.
Isis is reported to be putting up a final fight to hold Raqqa as the US-backed coalition has been clearing the militants from the city which they have controlled since 2014.