China on Wednesday (26 April) launched its first indigenously-built aircraft carrier, Shandong, in the Dalian shipyard in the country's northeast Liaoning province. This was also the second such launch by the communist state.
The first aircraft carrier was the Liaoning, a refitted Soviet-made carrier. The Liaoning was commissioned into the Chinese People's Liberation Army Navy in 2012, Xinhua reported.
Experts cautioned that this latest launch showed only modest progress in the modernisation of China's military, and there remains a huge technological gap between the Chinese Navy and the American Navy – Beijing's most powerful rival in the Asia-Pacific region.
The carrier, which was temporarily named the Type 001A, was transferred from a dry dock into the water during a launch ceremony on Wednesday morning at 9am local time (2am BST) at the Dalian shipyard.
The 315 metre long and 75 metre wide vessel has a cruising speed of 31 knots and has a displacement of 70,000 tonnes, the South China Morning Post reported. It added that the home-built vessel is slightly larger than the Liaoning.
China reportedly began development work on the aircraft carrier in November 2013 and took nearly five years to complete it. The layout is almost the same as the Soviet-made carrier, but Shandong features new equipment and a more advanced operational concept than the Liaoning. Shandong also has a bigger hangar to carry more J-15 fighter jets and more space on deck for helicopters and other aircraft, the newspaper noted.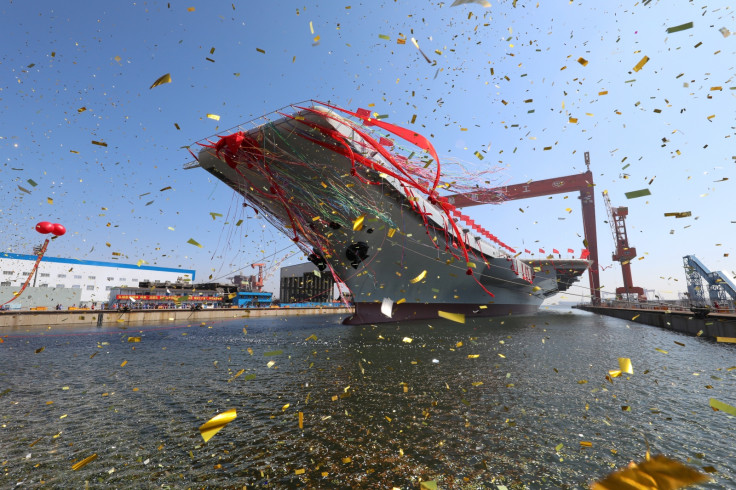 However, a military expert warned that China should be "mindful" of America's 100,000-tonne nuclear-powered aircraft carrier, which is twice the size of Shandong.
"While China is celebrating the launch of its first home-grown aircraft carrier, the country should also be mindful that the United States is possibly deploying its most advanced Ford-class supercarrier to the Asia-Pacific," Beijing-based naval expert Li Jie told the South China Morning Post, in an apparent reference to the USS Carl Vinson, which is currently headed towards the Korean waters amid increasing tensions between Washington and Pyongyang.
Comparing the American supercarrier and the new Chinese carrier, Li said the former is powered by two advanced nuclear reactors and equipped with an electromagnetic aircraft launching system while the conventional-powered Shandong retains the ski-jump take-off ramp of the Liaoning.
Around 2021, China is set to launch its next generation aircraft carrier but, it will still not be a nuclear-powered vessel with electromagnetic aircraft catapults, Li added.
"The US is deliberately going to remind China that the generation gap between PLA [People's Liberation Army] navy and the US carrier strike groups as well as their fighting capabilities will be further enlarged when the carrier Gerald R Ford is commissioned this year [in the US]," he said.