US President Barack Obama, often heralded as the world's most powerful leader, was forced to go out of Air Force One's "ass" when his plane landed in China in what has been regarded as a sharp and calculated diplomatic snub by Beijing.
With no staircase provided for him to emerge from the usual door – which is at the front of Air Force One – Obama had to disembark from the exit of the plane's belly marking a pointed departure from protocol . This alternative exit was little used in the past and that too only for security purposes. As he was going out of Air Force One's door, he was barely visible to reporters and photographers, who were kept under the wing of the aircraft by a blue tape.
Conspicuously, there was also no red-carpet welcome for the US president at the tarmac unlike in the case of most other leaders including Russia President Vladimir Putin, Prime Minister Theresa May, South Korean President Park Geun-hye and Indian Prime Minister Narendra Modi. All the leaders are in the eastern Chinese city of Hangzhou for the G20 summit.
Obama's unusual exit and the less-than-graceful welcome were shortly followed by a verbal encounter between the American press corps and Chinese security officials. The US National Security Adviser, Susan Rice, who the New York Times said, was "baffled and annoyed" by the arrangements, later told reporters about the alleged diplomatic snub by the Chinese: "They did things that weren't anticipated."
During the altercation, a Chinese security official was caught on the video telling a US presidential aide: "This is our country! This is our airport!" Chinese officials have not yet commented on the episode.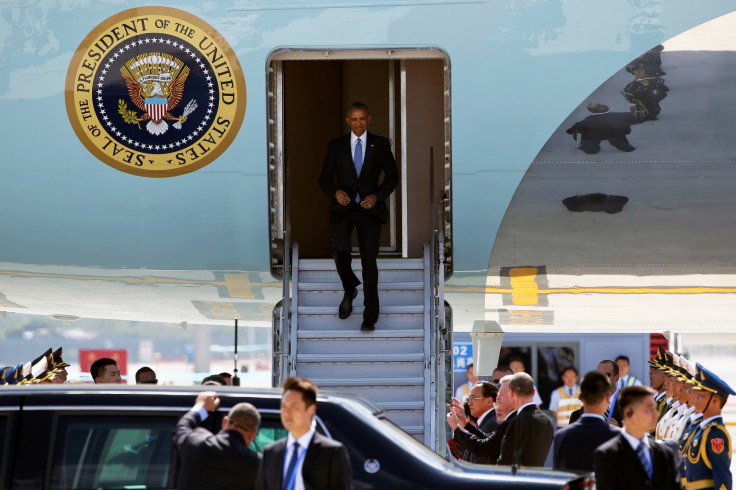 "It sure looks like a straight up snub. This clearly plays very much into the [idea]: 'Look, we can make the American president go out of the ass of the plane,'" Bill Bishop, a Chinese expert who closely tracks political developments in Beijing, told the Guardian. "The idea that they have been preparing for well over a year for the G20 but suddenly there be a malfunction with the ramp just for one president ... that really strains credulity." Multiple others have also said that the treatment given to the US president was not a cock-up.
When asked about potential conflicts and the cold reception, Obama told a press conference, "the seams are showing a little more than usual", but quickly played it down by adding: "I wouldn't over-crank the significance of it."