On the eve of the G20 Summit, which is scheduled to be held in the Chinese city of Hangzhou on Sunday (4 September), US President Barack Obama and his Chinese counterpart Xi Jinping discussed controversial issues between the two countries, including the disputed South China Sea and the US deployment of a missile defence system in South Korea. The discussions were held during a night stroll on Saturday night.
Post the informal chat, the two leaders were involved in a four-hour long meeting, wherein Obama is believed to have urged the Chinese president to abide by legal obligations on maritime rights over the disputed South China Sea, while the latter expressed his displeasure over US and Seoul's decision of deploying the Terminal High Altitude Area Defense (Thaad) system in the Korean peninsula.
On the South China Sea issue, Xi reportedly maintained that China would continue to protect its sovereignty and maritime rights in the disputed waters. However, Obama insisted that Beijing needs to "abide by its obligations" to an international maritime treaty in the dispute and the Hague international arbitrary court ruling.
He also said that China "will persist in peacefully resolving disputes through consultations with parties directly involved" and urged the US to "play a constructive role" in establishing peace and stability in the region, Reuters reported. It was reiterated in a foreign ministry statement issued following the meeting between the two delegates. In the statement, Beijing urged Washington to drop its "double standards on the South China Sea" and play a constructive role in maintaining peace and stability in the region.
The White House also released a statement saying that Obama had "underscored the United States' unwavering commitment to the security of its treaty allies".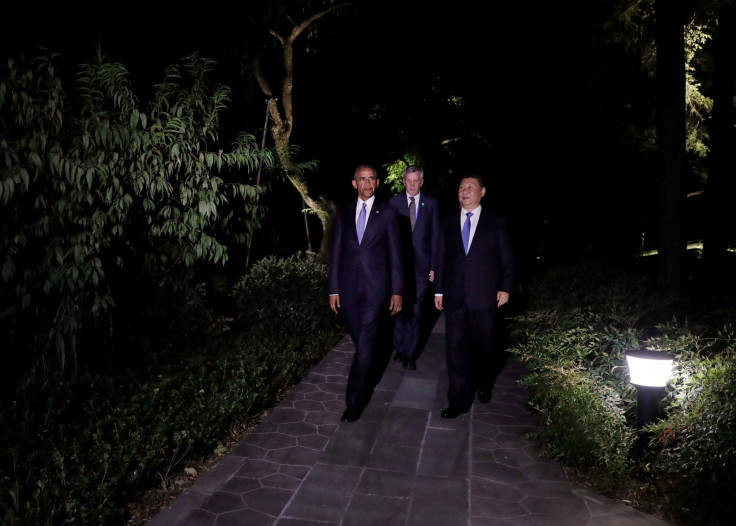 "The president reaffirmed that the United States will work with all countries in the region to uphold the principles of international law, unimpeded lawful commerce, and freedom of navigation and over-flight," the statement read.
During the one-on-one chat between the two state heads, Xi reportedly told Obama that China objects to the deployment of the Thaad missile and urged the US to "respect China's strategic security interests". Xi also said "China has been committed to denuclearization on the Korean Peninsula, safeguarding peace and stability of the peninsula, and solving relevant issues through dialogue and consultation".
"...the two countries should follow the principles of non-conflict, non-confrontation, mutual respect and win-win cooperation, deepen mutual trust and collaboration, and manage and control their differences in a constructive manner, in order to push forward the continuous, sound and stable development of bilateral ties," Xinhua quoted Xi as saying.