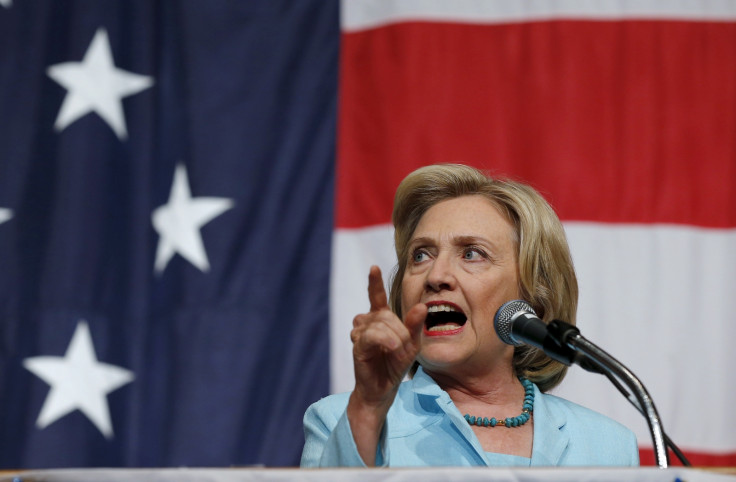 China is fuming over Democratic US Presidential hopeful Hillary Clinton's tweet on Xi Jinping calling him "shameless" and questioning his decision to co-host a UN women's rights conference.
While re-tweeting a New York Times story about China's record on women's issues and citing China's arrest of five feminists in March this year, Clinton called Xi's presence at the summit "shameless". Reacting to the specific accusation made by Hillary, media outlets in China said the women's rights activists "were not arrested because they were advocating women's rights issues, but because their behaviour flouted Chinese laws".
Clinton, who has made women's rights a key theme of her presidential campaign, has drawn flak from Chinese media and government officials. China's state-sponsored daily, The Global Times, in its English and Chinese editorial on 28 September (Monday) said: 'She's just like 'big mouth' Donald Trump'. Trump has also made anti-China remarks. The paper described Clinton's remarks on the Chinese president "vulgar and extremely lacking in manners" and called her "a rabble-rouser" engaged in "ignominious shenanigans".
The Chinese government is also reported to be unhappy about the insult. China's foreign ministry spokesman Hong Lei said: "Someone in another country is biased on the relevant issue and we hope that they will respect China's judicial sovereignty."
Social media is largely divided with many coming out in support of Clinton. On Weibo, the Twitter-like platform (Twitter is banned in China) the topic has gained traction. One post on the Chinese delegation's response to Clinton's comment drew thousands of comments. Some called her "an old witch" and made references to Monica Lewinsky, the former White House intern who had an affair with Bill Clinton.
"Hillary you should quickly rush home, Lewinsky is already in your bed with Bill. Why don't you mind your own business instead of talking rubbish about China." Another user said: "Hillary wasn't criticising the arrests of the activists, but instead was criticising their arrests on cooked-up charges."
Many users wrote demanding greater information transparency and an explanation of which laws the feminists violated. They pointed out the lack of progress on women's rights and supported Clinton's tweet. Leta Hong Ficher, a woman's rights activist and author of Leftover Women: The Resurgence of Gender Inequality in China supported Clinton's view and posted this tweet:
Another user on Weibo said: "Calling Xi Jinping 'shameless' too far but resonance with the issue not wrong. But how are we even supposed to react to that tweet to let our opinions heard as Twitter is banned in this country".
A Fox News report on 27 September revealed that Hillary Clinton's poll numbers were constantly dropping with the latest figures indicating a record low of only 38% favouring her candidature for the US presidency.