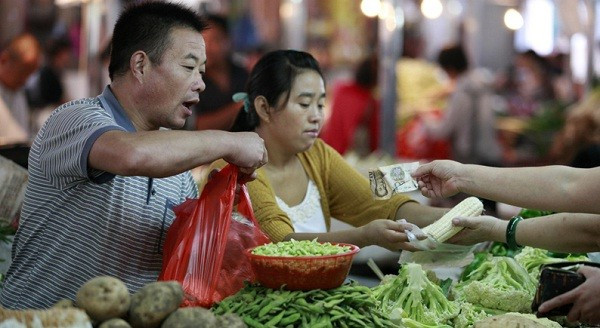 China's consumer price inflation remained within the government's comfort zone in July, giving room for the central bank to ease monetary policy further in favour of economic growth.
Consumer price index inflation remained unchanged at 2.3% year over year in July, despite rising pork prices, according to the National Bureau of Statistics. On a month-on-month basis, inflation rose 0.1%, compared with a 0.1% fall in the previous month.
Meanwhile, prices for producers continue to face deflationary pressures in the month, as producer price index inflation remained negative for the 29th consecutive month, falling 0.9% in line with forecasts, largely due to sluggish coal prices.
Analysts noted that the country's deflation risks may even rise in the foreseeable future if the growth momentum weakens again.
"This trend is seen in Alibaba Shopping Price Index, an online consumer price gauge and calculated by selecting 100,000 core products from Alibaba online retail platforms, and the index has remained negative in the past two years," said analysts at ANZ Bank.
"Against this backdrop, the central bank should maintain an accommodative bias in the monetary policy stance."
In its second quarter monetary policy implementation report, the Peoples Bank of China (PBoC) noted that selective cut in reserve requirement ratio (RRR) is not an optimal policy instrument, given the concerns over the rapid growth in money and quasi money supply.
"This triggers speculation that further policy easing, such as RRR cut for the whole banking sector, is unlikely in the second half of this year," the analysts said.
"We still believe that whether to adjust the RRR should be dependent on data outturn and capital flows, and our baseline is that as the central bank has committed to use a series of policies to lower the cost of funds facing the real economy, the overall monetary conditions should remain relaxed in general in the next two quarters."
For the first quarter, the country posted its lowest economic growth in 18 months, prompting Beijing to unveil a series of measures to boost growth. Economic growth improved to 7.5% in the second quarter, helped by higher exports and increased government spending on public housing, transport and energy.
For the full year 2014, the country targets a growth rate of 7.5%, but its leaders noted that the country is willing to take a lower growth rate for the sake of reforms in the economy.
China looks to transform itself by reducing dependence on exports and favouring consumption-led growth. Moderate inflation would help increase consumption as it encourages consumers to buy before prices go up.