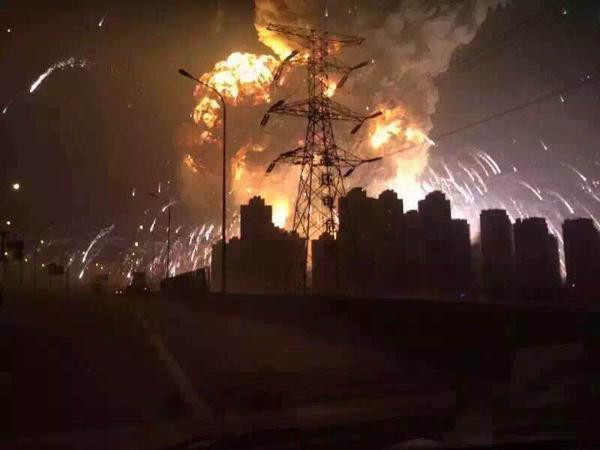 At least 13 people have died after a series of huge explosions rocked the northeastern China city of Tianjin. The cause of the blasts, believed to be at a petrol storage site the Tianjin Binhai New Development Zone, has not yet been determined but Chinese state media is blaming a shipment of TNT. The explosions occurred at about 23:30 local time (15:30 GMT).
According to State-run Chinese TV, several nearby tower blocks are without power following the series of explosions which sent flames hundreds of metres into the air and rocked buildings up to 10km away.
According to some reports the second of the two largest blasts had a force equivalent to 2.9 magnitude - equivalent to 21 tons of TNT.
Pictures on social media including Weibo show casualties being helped away from the scene. One shocking video shows a man standing in a glass doorway which is then totally destroyed by the blast. His fate is not known.
The People's Daily of China is reporting that hospitals including Tianjin harbour hospital have received 300-400 casualties and more keep coming.
The Beijing News quoted a doctor at another hospital saying: "The hospital cannot count how many patients we have received – there are too many of them and many of them have burn injuries."
Up to 100 fire engines have attended the scene and contact with two fire-fighters has been lost. However the fire is now said to be under control.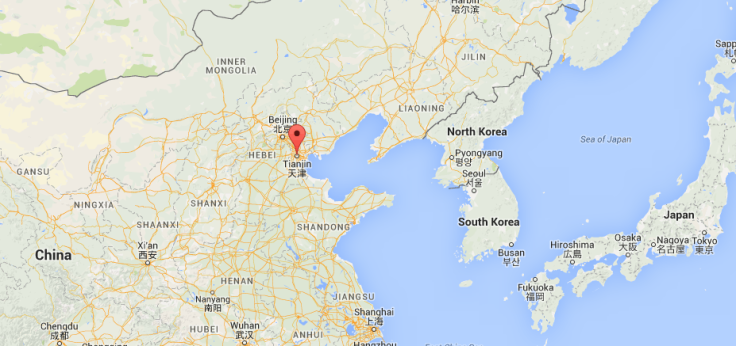 Eye-witness Ms Yang told local media: "At the time of the explosion the ground was shaking fiercely, nearby cars and buildings were shaking, a few buildings' glass all broke and everyone started to run. Now all the residents are gathered in the street."