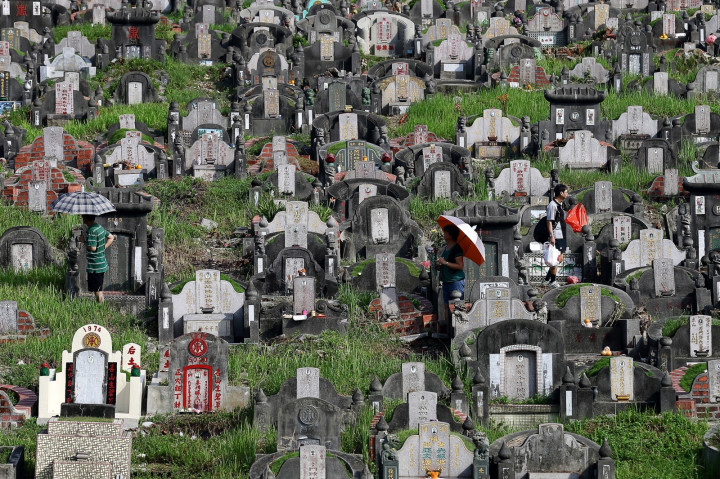 Two men in the Chinese Guangdong province have been arrested on suspicion on buying corpses from a grave robber in order to meet the government's cremation quota.
According to state controlled press agency Xinhua, the officials are accused of paying the grave robber to steal more than 20 bodies from local villages to guarantee they met the number of cremations the government set every month.
While it is tradition in China for families to bury their loved ones in tombs, so they can worship their ancestors ina ritual, the country is encouraging more people cremate their dead in order to save land for farming and redevelopment.
The two officials, with surnames cited as He and Dong, were arrested after a resident in Shizhai Village of Beiliu City in south China's Guangxi Zhuang region reported his grandfather's corpse has been stolen.
Police arrested the grave robber, identified only by his surname Zhong, after he admitted to placing the bodies in bags and transporting them to the neighbouring Guangdong Province.
Zhong also told police he sold the bodies to two officials in Gaozhou City and Huazhou City in Guangdong. He and Dong were local officials in charge of funeral management reform, reported tXinhua.
Dong is alleged to have bought 10 corpses for around 3000 yuan (£306, $489) while He is said to have paid 1500 yuan each for an unknown number of bodies. The deal was supposedly "approved" by the government.
The investigation continues.
The demand by the Chinese government, that more people be cremated, has angered many in the country.
There is a widely held belief in China that the body must be in tact to ensure a peaceful afterlife and a good location for their families' tombs can bring good luck and happiness to living relatives.