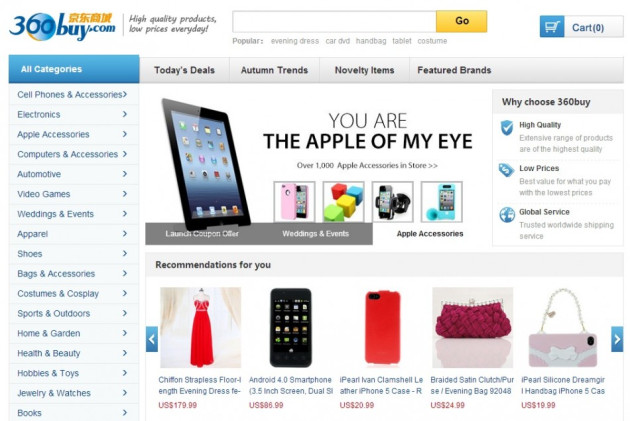 China's largest online store, 360buy, is planning to expand its business to the West, a move that could potentially pit it against firms such as Amazon and eBay.
The Beijing-headquartered company has launched its English website targeting around 40,000 customers in 35 countries, mainly in Europe and North Amercia, with products ranging from books and apparels to electronic equipment.
Speaking to the Financial Times, 360buy President Shi Tao said he hopes to push the company revenues to $100mn (£62mn) in two or three years.
"That would be the break-even point for the international business," he said, noting that the earnings from overseas ventures "will help boost profitability for the company overall because this is a higher-margin business".
360buy is reported to have tied up with global delivery firms such as DHL and UPS to reach potential customers worldwide.
"In the initial stage, we want to buy made in China products domestically and deliver them to overseas clients," Shi said in an interview with China Daily, adding that slowly, the company will establish overseas warehouses which will hold Chinese products in large quantities.
International markets are already familiar with Chinese products for their lower costs. Shi said 360buy will maintain focus on the low-cost segment.
"We have to set up advantages on pricing, because we are facing the masses, not people in elite groups," he said.
The company, which was founded in 2004, has 60 million users as of June.
It is the first Western market venture by a Chinese online retailer. 360buy's performance will be scrutinised to see how Chinese online firms fare in the highly competitive international market, especially since foreign internet firms have not had much success in China.
US online retailer eBay struggled in its venture into the world's second largest economy, facing stiff competition from the local firm Alibaba. Search engine giant Google was forced to restrict operations in the country due to censorship issues.