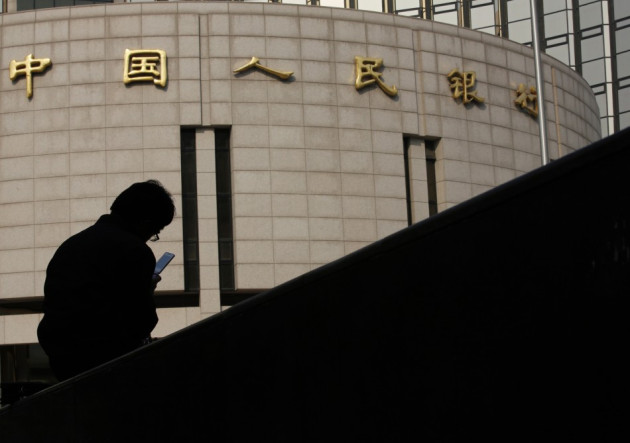 China's central bank is allowing commercial banks to issue inter-bank certificates of deposits, as the country looks to liberalise interest rates.
The People's Bank of China (PBOC) announced that it will allow commercial banks to issue inter-bank negotiable certificate of deposits (NCDs) starting 9 December. The financial instrument, which is generally issued by commercial banks, is a savings certificate entitling the bearer to receive interest.
The central bank said in an online statement that financial institutions willing to issue certificate of deposits are required to report their annual plans before entering the market. The PBOC set a one-time minimum volume of 50m yuan ($8.2m, £5m, €6m) under the scheme.
The issuance of the certificates will be priced in reference to the Shanghai Interbank Offered Rates (Shibor). The maturities of the NCDs will be from one month to three years. Fixed rate NCD will have tenures of one year or below while that for variable rates will have tenures of more than one year up to three years.
The new financial products will "allow banks to borrow at more stable costs in the interbank market," according to the official Xinhua News agency.
"As liquidity conditions of the money market are tight now, we think that the NCDs will be welcomed by the banks. In the meantime, as commercial banks need to submit the annual plan to the PBoC before the first issuance, we believe that the volume of the NCDs will balloon next year," said economists at ANZ Research.
Loosening Control on Lending Rates
The move comes as the world's second-largest economy looks to ease controls on deposit rates in a bid to boost its economic growth. In July, the country decided to scrap the floor limit of lending rates.
China's economic growth has slowed down in 11 out of the 14 previous quarters. The global economic crisis did also impact China, following its growing ties with the international markets. The country's economy grew by 7.7% in 2012, the slowest pace in 13 years. The slowdown had expanded into the first two quarters of 2013.
With a view to tackling the situation, the country has been opting for ways including liberalising its financial and capital markets and policymakers have been trying to loosen their grip on them.
In September, China opened a free-trade zone in Shanghai in order to test major economic reforms.
In the area, 18 industries will be liberalised for foreign players. The industries that were previously restricted to Chinese companies or joint ventures include travel, theatre, banking, brokerage, telecommunications, health insurance and video game gadgets.
China will also experiment with liberalised interest rates in the zone, opening them for market forces. Other noteworthy reforms include free swapping of the highly-regulated Chinese yuan.