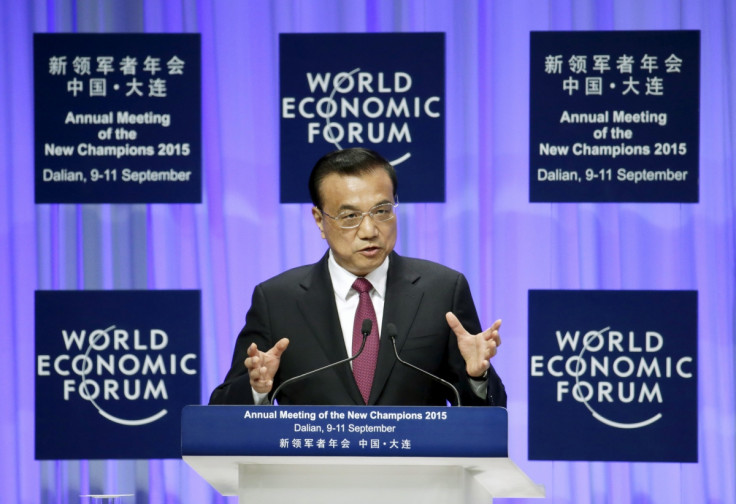 Chinese Prime Minister Li Keqiang shrugged off global concerns over his country's economy, saying that although Beijing was under downward pressure, there is no risk of a hard landing.
Speaking at the World Economic Forum in Dalian on Thursday (10 September), he said the Chinese government was fully capable of supporting growth, despite mounting fears that the Chinese economy is set for a slowdown which will affect economies with strong trading ties with Beijing.
The prime minister said he was confident the government would achieve its main economic targets this year, saying that while the economy had "come under quite a number of difficulties and downward pressure", it remained in "proper range", according to AFP.
"If there are signs the economy is sliding out of the proper range, we have adequate capability to deal with the situation. The Chinese economy will not head for a hard landing," he reassured.
Despite this, Li was quick to point out that China's woes were not all domestic related, noting that it is also affected by economic troubles elsewhere.
"China is an economy that is closely integrated with the international market. Given the weak growth of the global economy, China cannot stay unaffected and the deep-seated problems that have built up over the years are also being exposed."
The premier promised more measures to increase domestic consumption as the economy moves away from export-led growth to a more sophisticated one where consumer spending plays a more dominant role, AFP says.
"This is going to be a painful and treacherous process. So ups and downs in economic performance are hardly avoidable," he said, describing it as something natural during times of change.
He told market observers that China was not a risk to the world economy but instead, was "a source of strength for global growth." Li reminded them China accounted for about 30% of the world economic growth in the first half of the year.
China recorded a GDP growth of 7% in the first two quarters this year but on Monday, it cut its 2014 growth rate to 7.3% from the 7.4% announced earlier in January.
China has set a 7% growth target for 2015, down from last year's estimate of 7.5%. Li however was not worried about the lower growth rate, saying that given China's GDP now stands at more than $10tn, a growth of 7% represents an "even bigger than the double-digit" figures of the past.
On the recent yuan devaluations, Li said that China would never start a currency war by artificially devaluing the yuan but would instead keep it "basically stable at a reasonable and balanced level."
Meanwhile, Reuters reports that there are now concerns of deflation in China after manufacturers cut prices at their fastest rate in six years, with the producer price index or PPI down 5.9% in August year-on-year. Consumer prices are however still rising for now.
"The risk for China is still deflation, not inflation," said Kevin Lai, chief economist for Asia, excluding Japan, at Daiwa.
"PPI deflation will eventually filter down to affect CPI, and aggregate demand will continue to be weak," he said, according to Reuters.