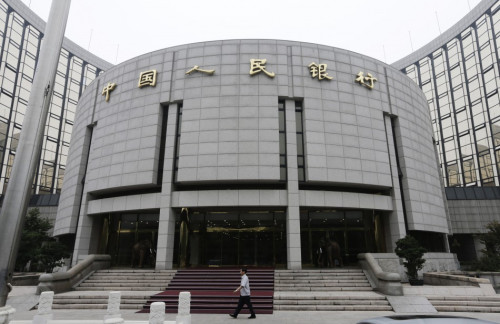 China is investigating a credit loophole that allowed executives at certain companies to meet liquidity shortages for their firms by exceeding credit card limits, as the country addresses risks to its financial system.
Bloomberg citing three people familiar with the matter reported that the People's Bank of China (PBOC) launched a probe into abuses of credit card pre-authorisations earlier in January.
The probe found that companies and people gained as much as 10bn yuan ($1.6bn, £1bn, €1.2bn) between December and early January.
The three people told the news agency that executives used the loophole to get cash for their firms toward the end of the year, when banks often demand companies pay back debts.
The executives made use of the loophole related to a feature offered by payment services provider China UnionPay. Actually intended for services such as hotel bookings and car rentals, the feature allows credit-card holders to exceed their limit by 15%.
"Even if a card-holder had a credit limit of 10,000 yuan, that user could make a deposit of 1 million yuan into a bank account and then conduct a fake transaction via a third party and access the deposit amount plus 15% - far in excess of the credit limit," Bloomberg writes.
The people added that executives exploited the loophole by acquiring many credit cards, sometimes with fake identities.
The feature was abused mostly by steel-trading companies that have faced trouble due to the plunging prices of the commodity, which fell by about 16% in the past year.
In its probe, the PBOC will look at whether third-party payment companies and commercial banks were negligent. They have to ensure the complicity of counterparty businesses or shops by law.
The central bank may punish some payment companies once the probe is finished.
Shadow Banking Reforms
The world's second-largest economy has been undertaking a number of reforms at its financial system, as it looks to make it more transparent ahead of allowing more private investment.
China is taking special care of its much-debated shadow banking system. In a seven-page draft document, "a notice about some issues related to strengthening shadow banking regulation", the government earlier noted that its financial system is facing a number of risks.
"Shadow banking risks are complex and hidden, and vulnerabilities can emerge suddenly and spread, easily causing systemic problems," the document said.
Once dominated by normal banks, China's financial system has been influenced by shadow banking institutions such as trust companies for the past five years. Critics argue that the boom in China's shadow banking has helped fuel a surge in its debt levels since 2008.
Regulatory agencies are expected to draw up more detailed implementation guidelines as their next step.
The new regulations would control off-balance sheet lending by banks and place non-bank institutions under closer scrutiny.