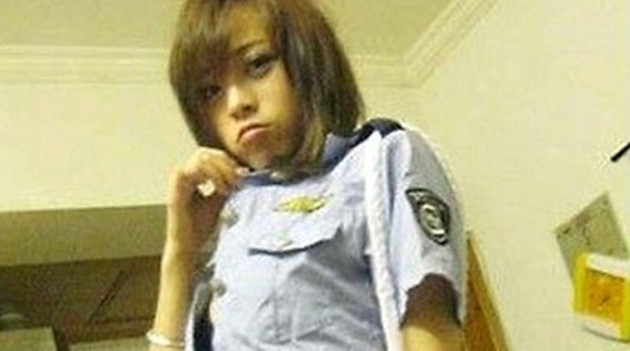 A woman in China has been jailed after posing for sexy photos in a police uniform to promote a novel.
Ministers in Beijing took a dim view of pictures in which Wang Xiaomen, 23, appeared wearing only a police officer's shirt, underwear and stockings.
She struck a variety of provocative poses, showing off a black lace bra in one picture and putting on stockings in another.
The shoot was also captured on video, during which Wang alludes to government corruption, a huge problem in China which threatens the credibility of the ruling Communist party.
"As a new cop in my home town, I need to learn the basics," she said.
"As one of the flowers of the force, I am under pressure. I have to eat and drink with government leaders every day. I am using my flower status to dine with the leaders and win contracts for projects and investments!"
Ministers became aware of Wang's actions when three pictures from the shoot went viral on Chinese social network Sina Weibo, and police received a small number of complaints from users. Wang was promptly tried for impersonating a police offcer and jailed for nine months.
Wang, who was paid £300 for the shoot, said: "The costume was just a prop. I was so ignorant."