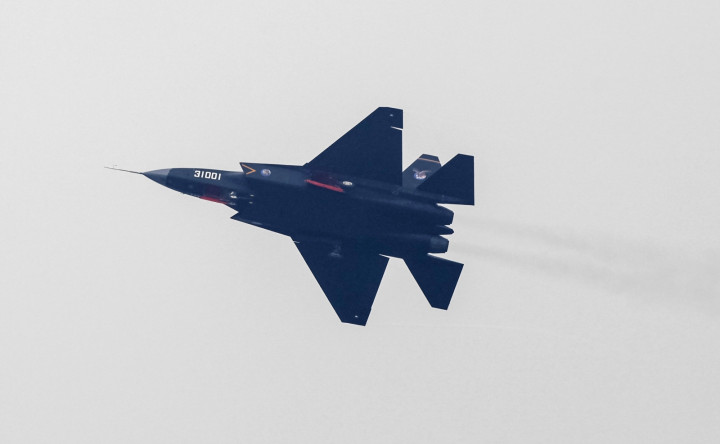 China has been showing off its new sophisticated stealth fighter jet at an air show taking place alongside US President Obama's visit to Beijing for the Asia-Pacific Economic Cooperation (Apec) summit.
While several senior US officials looked on at the China International Aviation and Aerospace Exhibition, Beijing is busy showcasing its rising aerospace and unveiling the much-awaited J-31 stealth aircraft, which has been manufactured by Aviation Industry Corp of China (Avic).
The Asian giant's second new radar-evading warplane performed a demonstration flight, but was not placed on display. Only a mock-up version of the aircraft was displayed at the biennial arms show in Zhuhai in the southern province of Guangdong, near Macau.
The latest aerospace event, attended by GE Aviation and Embraer SA, reiterated China's determination to strengthen its 2.3 million-strong armed forces and defence interests, in the backdrop of growing territorial tensions in the South China Sea.
"Experts predict that the J-31 will make rapid inroads in the international market in the near future, and will undoubtedly steal the limelight from the F-35," an editorial on the ruling Communist Party's mouthpiece People's Daily said about the jet.
However, the Avic is tight-lipped about any orders that have been placed for the sophisticated jet and little is known about the technology behind the plane.
"China is moving along at a very rapid pace in its fighter aircraft development and we should be concerned. Neither the J-20 nor the J-31 will match the F-22 or F-35 in stealth performance but their successors will and we should be concerned as China is a looming economic and military power. They enjoy flaunting their power in front of American leaders who have exhibited weakness," former Air Force Lieutenant General Tom McInerney told the Washington Free Beacon.