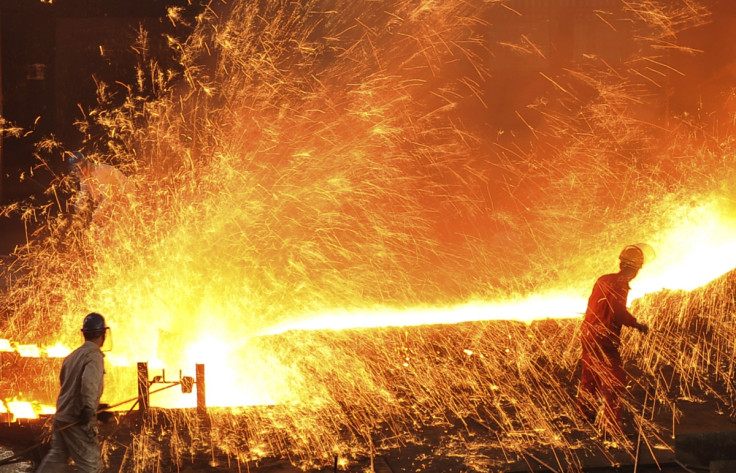 Adding to the woes of the global iron and steel industry is the latest announcement by one of China's biggest producers, Wuhan Iron and Steel. The company said it would cut up to 50,000 jobs. This marks more than 60% reduction of its total workforce of 80,000 employees.
Ma Guoqiang, chairman of the state-owned company, warned "probably 40,000 to 50,000 people will have to find other ways forward". He added the company was facing lower demand because of which it had reduced its production capacity by 25% to 30%.
China has for long been blamed for the crisis. They have been accused of selling steel at reduced prices and dumping excess production on the world's markets. This made it very difficult for steel manufacturers in the West such as those in Europe and the US because they have higher costs.
This steel crisis has cost the UK more than 5,000 British jobs in 2015 alone. Tata Steel and Caparo Industries are among the steel companies that had to close their plants or reduce production in the UK owing to this pressure of low prices from China.
Beijing in the past had promised to cut annual steel production from 1 billion tonnes in the world's second largest economy to 850 million tonnes within 5 years. Industry experts, however, argue there is no sign of progress in this regards.
The Chinese government fears that imposing such cuts would cause social unrest from the huge Chinese workforce that currently works in the iron and steel sector. Seth Rosenfeld, an analyst with Jefferies, in a recent note on the global steel sector said this fear by Beijing would withhold any chance of improvement in this sector during the near to medium term.
"Realistically, the implementation of policy-led restructuring efforts may continue to be held back by the 3m direct employees in the [Chinese] steel industry, and many times more in secondary industries," Rosenfeld had explained.
The analyst added that the Chinese steel companies were heavily burdened with debts. While the total debt stood at $520bn (£361.48bn, €466.38bn), majority of it was backed by Beijing-backed banks, Rosenfeld questioned: "Do Chinese banks and policymakers have the stomach to manage an impending default crisis that will naturally come alongside steel plant closures?"
However, in response to Rosenfeld, these recent comments from Guoqiang indicate China is finally reacting to the global steel crisis.