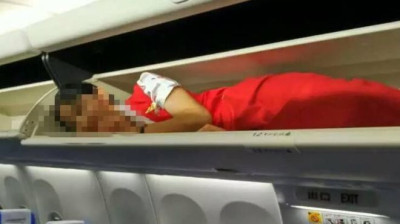 A Chinese airline has claimed its female cabin crew are happy to be loaded into aircraft overhead lockers by other staff. An online furore sparked accusations of bullying after photos emerged of what the company described as a celebratory ritual.
Kunming Airlines denied stewardesses were forced into the confined space typically reserved for hand luggage, quoting a female employee as saying they did so of their own will as a playful act among crew members that was made possible by the company's "harmonious and familiar" environment.
"Flight attendants are outraged at the online distortion of the facts," the air carrier wrote on China's popular social media Sina Weibo. The airline explained that the controversial practice was used to celebrate a stewardess's first flight or the reaching of a number of flight hours.
The airline's statement backtracks on an earlier response it issued after receiving a torrent of online criticism following the publication of the images on a WeChat account named Civil Aviation Tabloid. The post alleged cabin crew were pressured to climb into the lockers as an initiation ritual, or upon completing 30 to 50 hours service.
As the images went viral, state broadcaster CCTV News reported that Kunming Airlines had ignored numerous complaints by employees over the issue, saying that although many were annoyed by the ritual, they went through it out of fear of being ostracised by colleagues as "asocial" and "cocky".
Kunming Airlines had initially responded by saying they would tackle the practice, of which they were not aware, and reassured the incidents happened after crews completed their duties, with no safety concerns for the flight.