China has urged Vietnam to remain "calm" and take a "rational view" after Hanoi strongly opposed a military drill that Beijing was planning to conduct in the South China Sea.
Vietnam on Thursday (31 August) protested to the Chinese embassy about what it said was an announcement of military drills in the disputed waterway, amid tensions between the neighbours over territories that both the sides claim.
It is not clear what drills Vietnam was referring to or when such an announcement was made by Beijing. It also did not say when the training exercises might take place.
However, Hanoi said it was deeply concerned about the Chinese military drills in the Gulf of Tonkin area, which is situated in the northern region of the South China Sea.
"Vietnam proposes China to cease and refrain from repeating acts that complicate the situation in the East Sea," Foreign Ministry spokeswoman Le Thi Thu Hang said. Hanoi usually refers to the South China Sea as East Sea.
She continued that all foreign countries must comply with Vietnamese and international laws for any activities conducted in the mineral-rich strategic waterway.
Reacting to Vietnam's opposition, the Chinese Foreign Ministry on Friday (1 September) said the drills were routine exercises that the People's Liberation Army (PLA) Navy were carrying out.
Ministry spokeswoman Hua Chunying asserted that China had the rights to carry out such drills in the waters there as they were held in Chinese territories. "The relevant sea is under China's jurisdiction," Reuters cited Hua as saying.
"We hope the relevant side can calmly and rationally view it."
Vietnam has long been anxious of renewed Chinese military action targeting the country and driving it off its 21 holdings in the Spratly Islands in the South China Sea.
Earlier in July, Hanoi came under Chinese pressure to suspend its oil and gas drilling in offshore waters within the "nine-dash line" that China claims.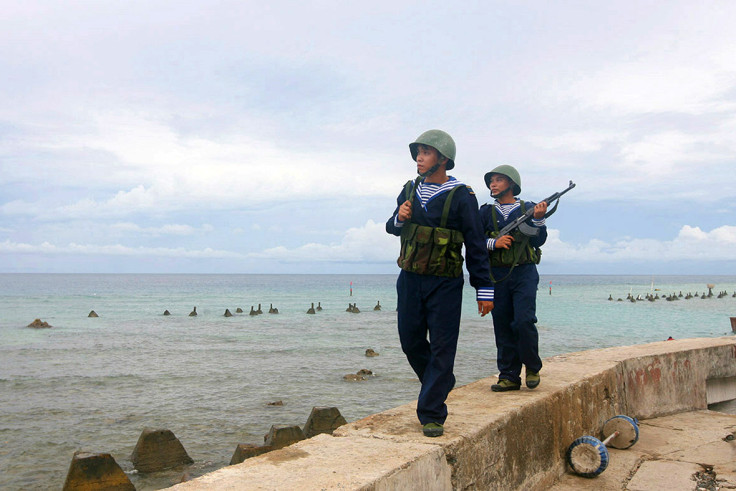 Talisman-Vietnam, a subsidiary of Spain's Repsol Oil, began its gas-drilling expedition on 21 June in an area about 400km (250 miles) off the Vietnamese coast. The drilling was seen by China as an apparent move by Hanoi to reinforce its claims against its bigger rival in the territorial dispute.
The company was ordered to leave the area after China reportedly threatened to attack Vietnamese military bases.
Tensions between Vietnam and China over drilling for oil in the mineral-rich sea date back to 2014 when coastguards from both sides confronted each other in the South China Sea.
Chinese vessels were reported to have intentionally rammed into Vietnamese boats in an area where Beijing had placed a massive oil rig, according to Hanoi.
China's deployment of the first rig sparked a diplomatic standoff with Vietnam in 2014 which also resulted in both countries' navies clashing and anti-China riots erupting across Vietnam.
Both sides have since met for several official talks. Although there has been little progress so far, the two sides have refrained from serious confrontations.