A video of a school teacher in India repeatedly thrashing a student mercilessly has gone viral on social media, sparking widespread outrage.
Retika V John, appeared to have slapped the seven-year-old grade 3 schoolboy, named Ritesh, about 40 times in two minutes after he allegedly did not respond when she called out his name while she was taking the attendance.
The incident is believed to have taken place at a private school in the northern Indian state of Uttar Pradesh this week.
According to local media reports, the gruesome act continued as the teacher also apparently banged the boy's head against a wall multiple times.
The act was caught on a CCTV camera in the classroom.
The incident came to light when the boy's father, Praveen Gupta, noticed that Ritesh's cheeks were swollen and that he remained unusually silent after he returned home from school.
The parents were informed about the incident through the boy's friends. When Gupta enquired about the assault with the school principal, they checked the CCTV footage which purportedly showed John hitting the boy.
When the principal asked for the reason "behind this inhumane behaviour", the female teacher reportedly said "she got angry", Gupta was quoted as saying by ABP News.
It is not clear when exactly the incident took place but the family of the boy are reported to have approached the local police to file a complaint against the teacher on Thursday (31 August).
The school management said they sacked the teacher immediately but no action has yet been taken against her by the police.
Although corporal punishment in schools is banned in India – like in many parts of the world – it is still seen as an accepted way of disciplining children in the country, at least within homes.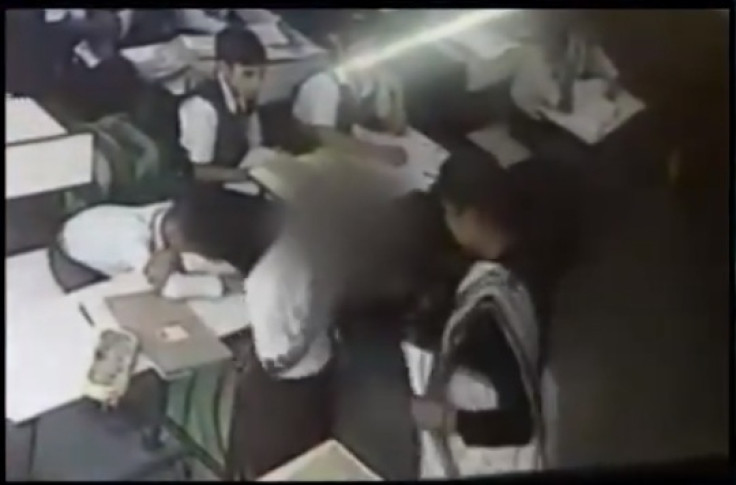 There has been widespread crackdown on the practice after several such incidents like Ritesh's came to the light, forcing authorities concerned to issue warnings to schools.
In 2014, the Indian central board of education had warned all schools in the country against corporal punishment and urged them to work towards eradicating the practice.
In 2010, the Ministry of Women and Child Development issued a new set of guidelines banning physical punishment of students.
The ministry instead suggested that schools offer counselling sessions for students to control even unruly behaviour in classrooms, and not resort to physical punishment.
India's Right of Children to Free and Compulsory Education (RTE) Act, 2009, prohibits not only physical punishment but also 'mental harassment' of students, thereby making it a punishable offence.