In a strongly-worded response, China has slammed British Prime Minister Theresa May's comments after she called on Beijing to play a "key role" in international efforts to rein in North Korea and its missile launches.
May told reporters on her way to Japan on Wednesday (30 August) that China has to do more and put more pressure on Pyongyang to prevent what she described as significant provocation by the Kim Jong-un regime.
"We want to ensure that they desist this action. We see that the best way of doing that is for China to be bringing pressure to bear on North Korea," Reuters cited May as saying.
However, the Chinese foreign ministry hit back at her comments, saying some "relevant sides" are being selective in carrying out the UN resolutions and those countries themselves are not doing enough ground work to stop North Korea by not pushing for a return to talks.
"When they say that China should put more pressure or do more, are they themselves 100 per cent, completely implementing the UN Security Council resolutions? Or are they selectively implementing the resolutions, for example just advocating for more pressure and sanctions while completely ignoring the push for dialogue and peace talks?" the foreign ministry spokeswoman Hua Chunying asked pointedly.
She further said that when the "smell of gunpowder" still remains strong over the Korean peninsula, this is not the kind of attitude "responsible countries" should portray.
"We're also noticing that some sides are even forcing things upon others and are on the one side shaking hands, while stabbing us in the back. When it comes to sanctions, they storm to the front but when it comes to pushing for peace, they hide at the very back. Not wanting to bear any responsibility but wanting to share in the spoils.
"I don't think this is the attitude or behaviour of a responsible country," Hua added.
The mounting pressure on China to rein in North Korea comes after the reclusive country's latest ballistic missile test on Tuesday (29 August), which flew over northern Japan's Hokkaido island and landed in the East Sea.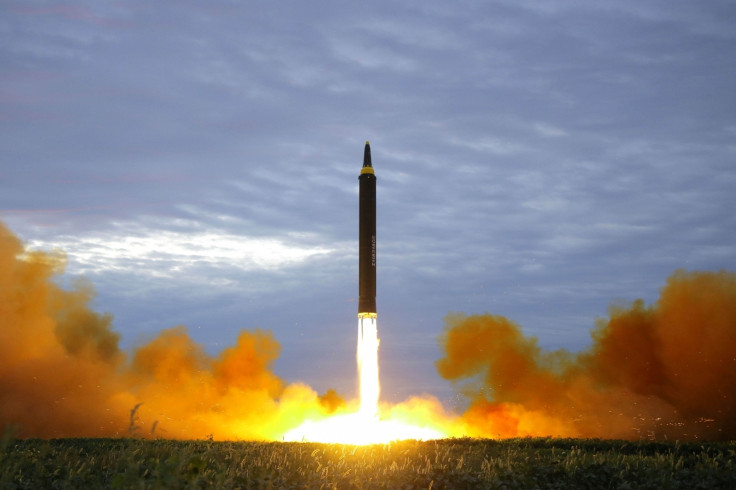 It was thought to be another show of force by the country's leader Kim Jong-un and his men as it was the first time in eight years that a North Korean missile flew over Japan.
May had described the firing of the missile as a "reckless provocation".
She arrived in the Japanese city of Osaka on Wednesday (30 August) to meet her counterpart Shinzo Abe for bilateral trade talks as the UK seeks favourable terms with the Far East nation post-Brexit.
She announced that dealing with North Korea will be part of her talks during her three-day visit to the country.
However, if the isolated nation fires another missile during her visit to Japan, she has been advised to follow the country's J-alert system, The Telegraph reported.
This means that the British PM will have to "duck and cover" when a 10-minute warning is given via loudspeaker and mobile phone. The procedure also tells people to go indoors and to stay away from doors and windows.