China reportedly wants to boost its stranglehold over the South China Sea by launching 10 more spy satellites in the next three years. Beijing is reportedly planning on creating a network of satellites that will help China conduct 24/7 surveillance over the contested waters.
China plans to launch three optical satellites, two hyperspectral satellites and two SAR satellites to complete the Satellite Constellation Program by 2021, the state-run Xinhua reported. When completed, the spy satellite network will reportedly help Beijing conduct "round-the-clock" surveillance on South China Sea, even allowing detailed analysis of any objects in the contested waters.
The South China Morning Post cited an unspecified Beijing-based expert on remote sensing technology as saying that the yet-to-be-launched satellites would provide additional support to China's current satellite network and "could be called into military service when needed".
Collin Koh, a maritime security specialist at Singapore's Nanyang Technological University told the South China Morning Post that climactic and technical issues affecting China's current satellite system have prevented the nation from providing complete surveillance coverage over the South China Sea.
"The new satellite remote sensing plan ... constitutes just a facet of the overall efforts China has been making in improving its sense-making ability in the South China Sea," Koh said.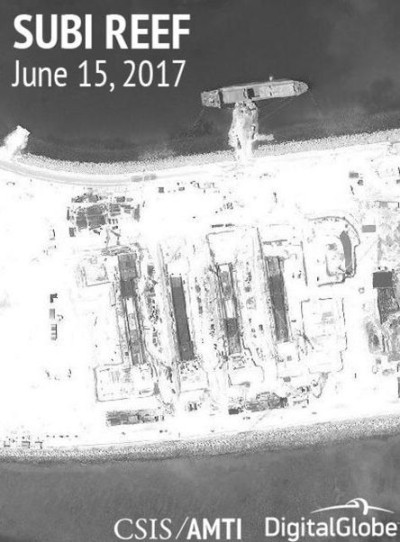 Over the past year, China has reportedly escalated its presence over the contested waters. Washington-based Asia Maritime Transparency Initiative reportedly said that China has already added around 29 hectares of infrastructure to seven artificial South China Sea islands since 2016, indicating the possibility of Beijing likely establishing fully-functional air and naval bases in the future.
Experts reportedly believe that Beijing is capitalising on the current calm, to ramp up its monopolising control over the disputed waters as the US continues to be preoccupied by the North Korean nuclear threat.
Philippines president Rodrigo Duterte's current appeasing stance on the disputed waters also appears to have emboldened China. "Beijing must have also recognised that the current peace – compared to the ramped up tensions last year – could be temporary or transient, so it'll pay to continue to fortify its physical hold of the area," Koh said.
Meanwhile, China is also planning to launch its first hydrogen atomic clock in 2022, which will aim to boost China's navigation satellite system.