Taking the strongest ever stand against its neighbour, China has reportedly warned North Korea that it would impose unilateral sanctions against the regime if it conducts any more nuclear tests. The Kim Jong-un regime has conducted two nuclear tests in 2016 - the first in January followed by another in September, in addition to multiple ballistic missile tests.
US Secretary of State Rex Tillerson told Fox News on Thursday (27 April) that China has informed the White House about the warnings it issued to the North. "We were told by the Chinese that they informed the regime that if they did conduct further nuclear tests, China would be taking sanctions actions on their own."
However, there has been no confirmation from Beijing. It is also not clear when the threat was issued and what sanctions the Chinese government was referring to.
Earlier on 21 April, US President Donald Trump lauded his Chinese counterpart Xi Jinping for trying "very very hard" to contain the North Korean threats. He had then revealed that some very "unusual" measures had been taken to counter the threats, but he did not elaborate on what the measures were.
The past few weeks have seen tensions rise on the Korean peninsula, with the US administration dispatching its powerful Nimitz-class supercarrier USS Carl Vinson in retaliation for Pyongyang's latest missile tests and its show of force on the country's founder's day last week.
Commenting on the mounting tensions between the two countries, Trump said on Thursday that there was a possibility of a "major major conflict" with Pyongyang in the coming days.
Meanwhile, Tillerson, who was part of a closed-door briefing on North Korea for US Senators, is scheduled to chair a meeting with UN Security Council foreign ministers on Friday (28 April). He is expected to stress the need for the council members to fully implement existing sanctions on North Korea. "We're going to be discussing what next steps may be necessary to increase the pressure on the regime," he noted.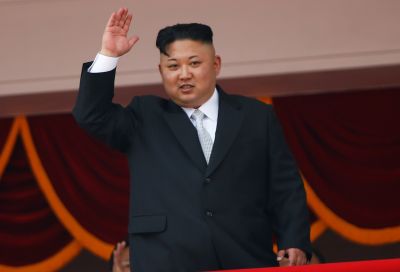 According to Tillerson, US intelligence reports suggested the North Korean leader was "not crazy" and could be negotiated with. "He may be ruthless, he may be a murderer. He may be someone who in many respects we would say by our standards is irrational. But he is not insane," Reuters quoted the former Exxon mobile chief as saying.
Meanwhile, the North Korean regime has agreed, for the first time, to allow a UN representative working for human rights causes to visit the Pyongyang, according to Deutche Welle, which cited a statement from the United Nations Human Rights Council.
The council said on Thursday that Catalina Devandas-Aguilar, UN special rapporteur on the rights of persons with disabilities, will spend six days in the country to learn about how disabled people - especially children - live in the country.
"My upcoming visit to DPRK represents a key opportunity to learn first-hand about national realities, laws, policies and programs concerning people with disabilities, as well as the challenges and opportunities the Government faces in implementing the Convention," Devandas-Aguilar said in the statement.