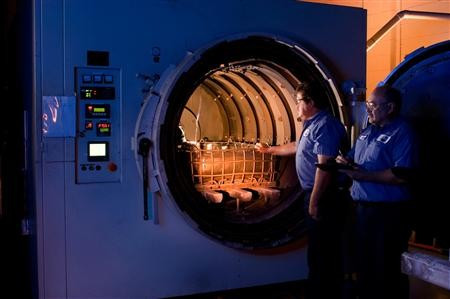 Aluminum Corp of China (Chinalco) will set up a joint venture with a local company to develop rare earths in the southern Chinese province of Guangxi, the China Securities Journal reported on Thursday.
The move was part of its strategy to become the global leader for rare earth resources in the next 5-10 years, the newspaper said.
Chinalco, parent of listed Aluminum Corp of China Ltd (Chalco), would retain a controlling stake in the joint venture with Guangxi Nonferrous Metals Group, the newspaper said, citing company spokesman Yuan Li.
The company also announced other development plans, including optimizing development of aluminum and giving priority to developing copper, coal and iron ore, it said.
Chinalco reported an operating profit of 2.7 billion yuan ($410.2 million) for last year, the business daily said. Operating income rose 41 percent to 200.3 billion yuan.
Listed unit Chalco said on Monday that it expected to post a net profit for 2010 after recording a net loss of 4.646 billion yuan for 2009.