Although China boasts the world's most extensive high-speed rail infrastructure with over 16,000km of track, it is also home to one of the last regular passenger steam train services in the world.
Award-winning photojournalist Kevin Frayer made several trips on the train and then walked along the tracks, capturing scenes straight out of China's past.
The narrow-gauge Jiayang Railway connecting the towns of Shixi and Bagou in Qianwei county, Sichuan Province, was constructed in 1958 to haul coal. The trains are still powered by the rusting, temperamental steam engines built in the 1950s.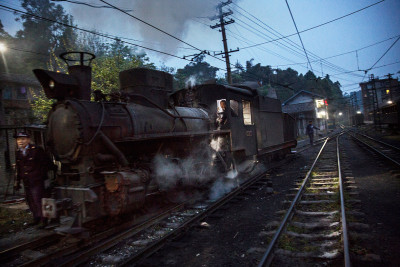 In 1978, the service added a couple of passenger coaches. The train was the only way for locals to travel between the two towns until a road was built a couple of years ago.
The regular carriages are very basic, with wooden benches and no glass in the windows. Your fellow passengers might include poultry and piglets, which are being taken to market by local farmers. But it is cheap: a one-way trip costs CN¥5 (£0.52, $0.81).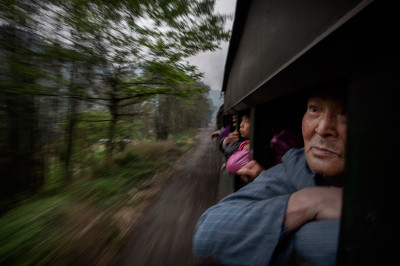 For a more luxurious trip, there are air-conditioned sightseeing carriages, catering for a growing number of tourists wanting to experience this "living fossil of the Industrial Revolution".
Seats in these carriages costs 10 times as much as on the local service but you do get a tour guide and the chance to disembark and photograph the train barrelling around the scenic Jiaoba Curve at top speed (30kmh).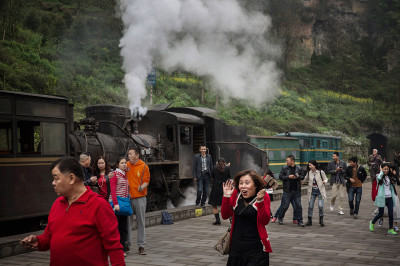 The 20km route through the misty, mountainous Sichuan basin passes scenic rapeseed fields, bamboo plantations and rice paddies. The tiny villages alongside the tracks seem untouched by China's rapid economic progress.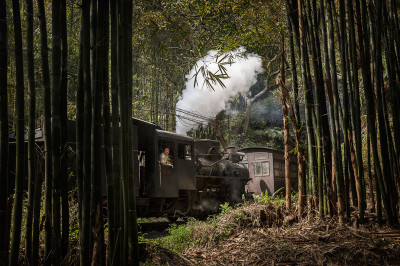 Bagou, the town at the end of the line, was once home to 20,000 people, but the closure of the coal mine led to a decline. The miners moved away, and the schools and hospitals were shut down. Now the place is unloved, with crumbling buildings and around 1,000 mostly elderly residents.
However, the increasing popularity of the railway line may turn the fortunes of the town around. Some of the former miners' cottages have been renovated and now operate as guesthouses for visitors.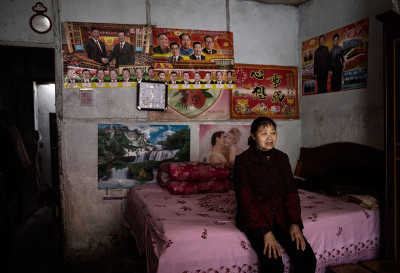 The tourists that come here are mostly urban Chinese people from nearby cities like Chengdu, wanting to travel back in time, but a few foreigners have begun making the trip to experience "the real China".