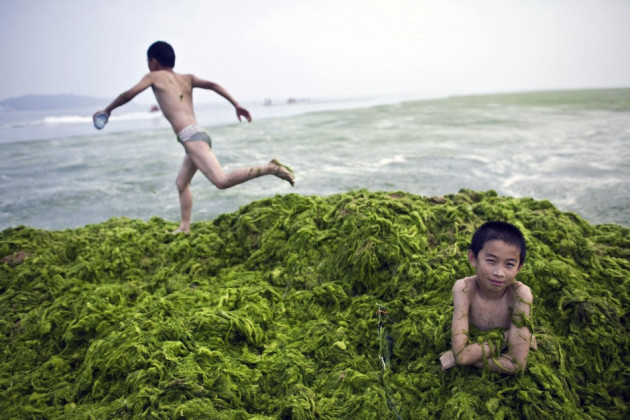 Hundreds of boats and bulldozers were dispatched by Chinese authorities on Friday 5 July to clear up the massive swathe of bright-green algae engulfing the Yellow Sea.
Beaches around the east coast city of Qingdao were overpowered by a foul-smelling algal bloom covering an area almost as big as Wales.
The phenomenon could be caused by industrial pollution, according to science experts.
Warm sea temperatures are also thought to fuel algae growth, as the organisms can feed on nutrients including phosphates and nitrates in fertiliser runoff and sewage.
However, this year's algal crop - at 7,500 square miles - has been the largest. Chinese officials have declared it a "large-scale algae disaster".
More than 20,000 tonnes of the bright green algae, which smells like rotten eggs, have been cleared by volunteers. It will be turned into animal feed and fertiliser.
The algae is thought to be harmless to humans. However, in large quantities it can prove dangerous as it decomposes, producing toxic hydrogen sulphide gas. It can asphyxiate marine life by sucking oxygen out of the water.
But probably the worst effect of the algae is the return of the Facekini, the bizarre mask worn to prevent skin from sunburn. It is back in fashion again in Qingdao, a coastal city in east China, as summer comes. The mask covers a swimmer's entire head and neck down to the collar bones with holes cut for eyes, nostrils and mouth.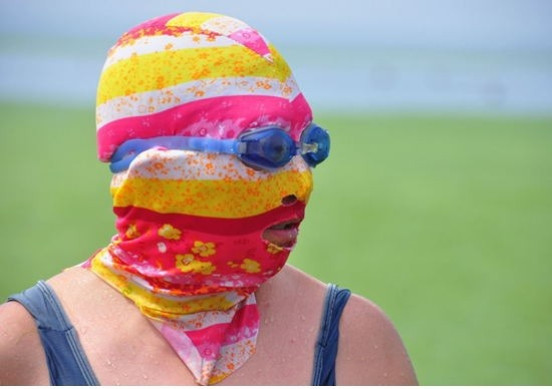 "The carpet on the surface can dramatically change the ecology of the environment beneath it," said a Guardian report. "It blocks sunlight from entering the ocean and sucks oxygen from the water suffocating marine life."
Video footage from the resort city of Qingdao showed bathers frolicking in the algae, swimming amongst it and carrying out handfuls of the material, which is known as "sea lettuce" in China, according to The New York Times.
Officials reportedly have cleared up to 11 million pounds (5 million kilograms) of the algae (enteromorpha prolifera), each day to be dried and later used for fertiliser.
"It feeds off those nutrients and grows bigger and bigger, and eventually you can see it from satellites," John Keesing, a scientist at the Csiro Division of Marine and Atmospheric Research in Australia who is studying the green tide with Chinese researchers, told the New York Times.
"The currents gently move the algae in a northeastern direction out into the centre of the Yellow Sea. You get a huge amount, and eventually it starts to wash on shore."
The National Oceanic and Atmospheric Administration explains how the prolific algae blooms lead to dead zones. According to Scientific American, there are at least 405 dead zones around the world. One of the worst in the world is in the Gulf of Mexico, where this year researchers expect around 8,000 square miles of the Gulf to be oxygen depleted.
Watch video of people swimming in bright-green algae