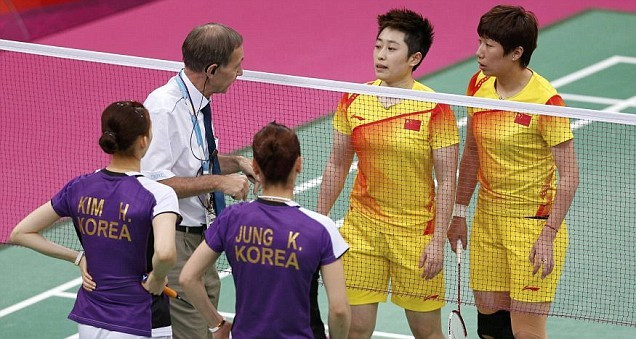 China\'s Olympic badminton champion Yu Yang is to quit the sport over the match fixing scandal which saw eight players disqualified from London 2012.
Yu, 26, announced her retirement on Chinese microblogging website Sina Weibo, a few hours after the Badminton World Federation (BWF) throw her and teammate Wang Xiaoli out of the competition.
The BWF ruled that Yu and Wang deliberately played to lose in their final round-robin match against South Korea, in the hope of avoiding their much-fancied compatriots, Tian Qing and Zhao Yunlei, in the knockout stage.
\"This is my last competition. Goodbye Badminton World Federation, goodbye my beloved badminton,\" wrote Yu on Weibo.
Yu was the defending champion, having won gold in the badminton women\'s doubles at Beijing 2008 with former teammate Du Jing.
Li Yongbo, head coach of the Chinese badminton team, publicly apologised for his players\' conduct.
\"It\'s me to blame. As head coach, I owe the supporters of Chinese badminton and the Chinese TV audiences an apology,\" Li told Chinese news agency Xinhua.
Mass expulsion
Yu and Wang were expelled in a mass disqualification which saw both of South Korea\'s womens pairs ejected simultaneously.
The BWF ruled that, in the match between China and South Korea, both teams were trying to lose - and decided to expel the South Korean pair of Jung Kyung-eun and Kim Ha-na alongside their Chinese opponents.
Both teams received warnings from referee Thorsten Berg for making basic unforced errors, and the match was accompanied by boos from the crowd. However the Korean coach, Sung Han-Hook, told the BBC that \"the Chinese started this - they did it first.\"
South Korea\'s other pair, Ha Jung-eun and Kim Min-jung, were similarly banished for attempting to fix a match against Indonesia, along with their opponents Meiliana Jauhari and Greysia Polii. Again, Berg issued multiple warnings to both teams during the match.
South Korea lodged an appeal against the disqualification of both its pairs, while Indonesia also contested its ejection. However none of the appeals was successful.
The mass expulsion allowed four pairs who were eliminated in the group stage - representing Russia, Canada, Australia and South Africa - to return to the competition. The Russian and South African pairs have since progressed to the semi-finals.