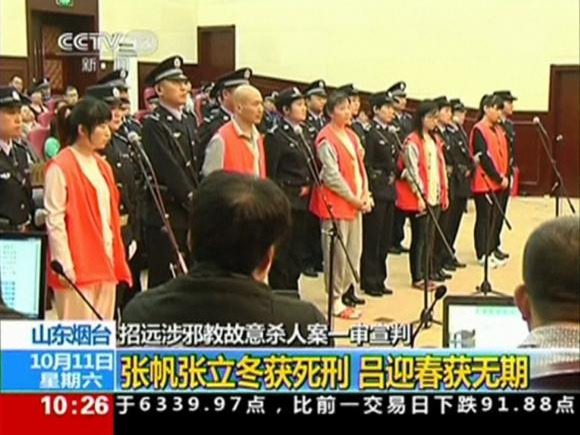 Members of a Chinese cult who beat a woman to death in a McDonald's restaurant have been sentenced to death.
Zhang Fan and her father Zhang Lidong were sentenced to death by the Yantai Intermediate People's Court in Shandong, following the attack in May in a branch of the fast food chain in Zhaoyuan, reported state news agency Xinhua.
Another member of The Church of the Almighty God sect, Lu Yingchun, was given a life sentence. Two other members, Zhang Hang and Zhang Qiaolian, were given 10 and seven-year jail terms respectively.
The agency did not report the age of the five defendants, who were tried in August.
The group had been soliciting for telephone numbers in the fast food restaurant, when 37-year-old Wu Shuoyan refused to give them hers. They attacked her, beating her to death in front of her seven-year-old son while threatening other diners, warning them that they would suffer the same fate if they intervened.
When interviewed by police subsequently, Zhang Lidong said that he attacked the woman because he believed that she was possessed.
He said: "I beat her with all my might and stamped on her too. She was a demon. We had to destroy her."
The cult, which originates in central Henan province, believes that Yang Xiangbin, wife of the sect's founder, Zhao Weishan, is the reincarnation of Jesus Christ.
Xinhua reports that Yang adn Zhao fled to the US in 2000. The group had predicted that the world would end in 2012, and called for a decisive battle with The Red Dragon, its name for the Chinese Communist Party.
The Chinese government has ruthlessly supressed religious groups which it regards as a challenge to its authorities, arresting hundreds of members of the Church of the Almighty God since the murder.