Chris Eubank Sr clashed with Conor Benn during an entertaining press conference held ahead of his son's next fight on Saturday (25 June). Along with the eagerly anticipated all-British eliminator for the WBA super-middleweight title between George Groves and Martin Murray, Chris Eubank Jr provides chief support for Anthony Joshua's first IBF heavyweight defence against Dominic Breazale by putting his British middleweight championship on the line in a meeting with unbeaten former Prizefighter winner Tom Doran at London's O2 Arena.
Such a contest marks his first bout since March, when he claimed the Lonsdale belt with a comprehensive 10th-round stoppage of Nick Blackwell. That victory was overshadowed by the events that followed, with his committed opponent, who absorbed a barrage of heavy shots throughout a bruising fight, collapsing before being placed in a medically induced coma for seven days and later announcing his retirement.
Also fighting on this weekend's undercard is super-lightweight prospect Benn, who follows up victories over Ivailo Boyanov and Luke Keleher by facing the Czech Republic's Lukas Radic over four rounds. The 19-year-old is the son of legendary British fighter Nigel Benn, a former two-time world champion and adversary of Eubank Sr who fought him twice without success during his professional career.
"I want to say something to Nigel, Mr Benn, about Conor," the elder Eubank addressed the media at Canary Riverside Plaza Hotel after first engaging in a war of words with Doran's manager Dave Coldwell.
"See, Conor may actually turn out to be a good fighter one day, we don't know as yet. But it's not the boxing with which I'm concerned with. I'm concerned with the ordinary life, the people who are your friends, who you are moving about with. His father should be there to watch that. Now, he [Nigel] famously said that he got introduced to particular substances. This took him off track. The fighter that he became, maybe he could have been a better fighter if he wasn't involved with those mates who introduced him to that ordinary life. Your father needs to be here."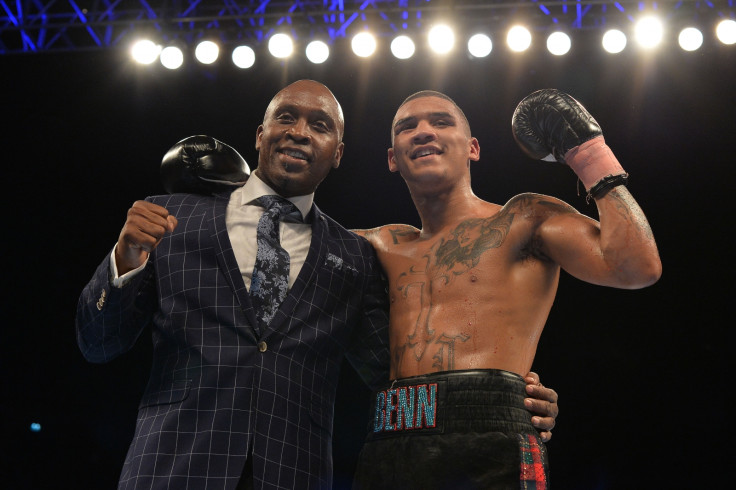 Nigel Benn was present for his son's first two pro outings in London and Glasgow, but has since returned to his home in Australia and left him in the capable hands of promoters Matchroom Boxing and Eddie Hearn.
Taking exception to those comments from his father's arch-rival, Conor interjected: "Who are you to talk about my life? Who are you to talk about my personal life in front of all these cameras? Who are you? I find that extremely disrespectful. That is very disrespectful. It's none of your business.
"If you want to talk about my dad, talk about him. Don't talk about me and come with all that. Don't talk about my life in front of these cameras. That's my personal life. You want to talk about my boxing, fair enough. But don't talk about my personal life. Talk about my boxing, that's it. Not my personal life."
Benn 'may have spirit your father had'
Eubank adjusted his approach and replied: "His boxing life will be better protected if his father is involved with him because his father will protect him against the things which happened to him. So when the father's close, the fighter is better protected. This is what I was saying. It's in support of you, it's not against you. I'm not trying to embarrass you. I want the best for you. You may have what it takes. You may have that spirit, that energy that your father had.
"What I am worried about is the outside, the parties, the girls, the media, the guys that throw you off track. That's why Junior is protected, because I'm not moving away from him. I'm always there watching everybody around him and I would like the same for you. It's in support of you that I say what I say. No disrespect meant."