Nigel Benn vs Chris Eubank III: 'Dark Destroyer' insists it's down to old foe to sign contract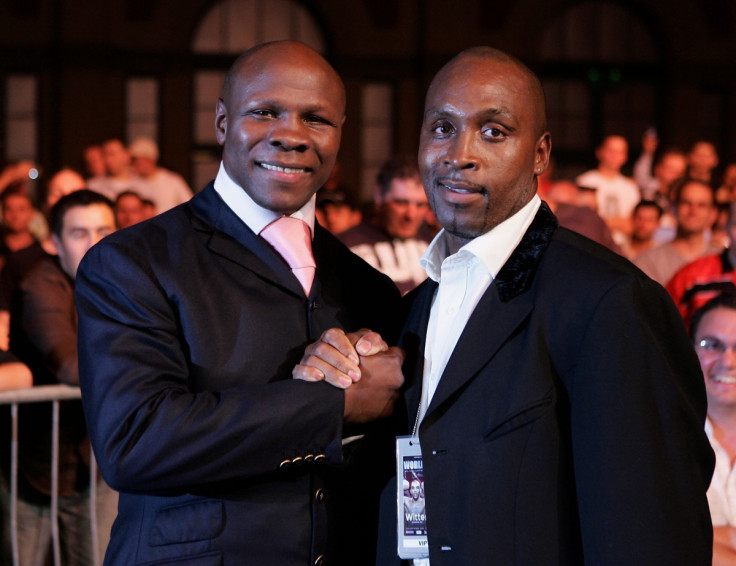 Nigel Benn insists he is committed to fighting Chris Eubank for a third time and is just waiting for his old adversary to sign on the dotted line.
Benn, 52, last fought in 1996 while Eubank, 50, retired from the ring in 1998. Despite their advancing years, both men have insisted they are keen to see one of British boxing's greatest domestic rivalries evolve into an iconic trilogy, following their memorable bouts in 1990 and 1993.
Benn, whose son Conor will make his professional debut on Saturday 9 April on the undercard of Anthony Joshua's world title fight with Charles Martin, has previously suggested Eubank wanted 70% of the fight's purse.
Benn, desperate to set the record straight after losing their first bout and settling for a draw in the rematch, instead wants a 50-50 split, and now insists the ball rests in Eubank's court to make it happen.
"I'm just waiting for him [Eubank] to sign, instead he's talking a load of old gobbledegook as usual," Benn told IBTimes UK. "If [Matchroom promoter] Eddie [Hearn] was come up to me and say we can get it done tomorrow, done. Let's fight."
Benn was speaking at Conor Benn's first press conference, ahead of his debut at super lightweight at the O2 Arena. At just 19, his father already envisages big things despite having just three years and 22 fights as an amateur under his belt, and believes he can begin to think about challenging the likes of Amir Khan and Kell Brook in the next couple of years.
"There is no comparison, he is better than I was at 19. I know that. I was just a street fighter, he can box, he can bang, he can move. I couldn't do that [at his age] I just wanted to have a street fight, I didn't care. But he's got it all. Class. Power, speed, and determination, that's it, he's got it all."
Saturday's huge night of British boxing comes after the sport breathed a sigh of relief after Nick Blackwell awoke from his induced coma following a fight with Chris Eubank Jnr on 26 March. The 26-year-old's plight has heightened the debate regarding a boxer's personal safety inside the ring, but Benn expects fighters – including his teenage son – to embrace the risks, or not bother with the sport at all.
"Forget about all that, I don't let it into my mind," Benn said. "When you get in the ring, you know what can happen. If you're getting in there worrying, 'oh this might happen' – get out of the ring. Don't get in there.
"It's a sport. It's a contact sport. It is going to happen. It happens more in American football, more in rugby, places where there are more injuries. It is with boxing it starts to get blown out of proportion, but these are the things that can happen."
© Copyright IBTimes 2023. All rights reserved.