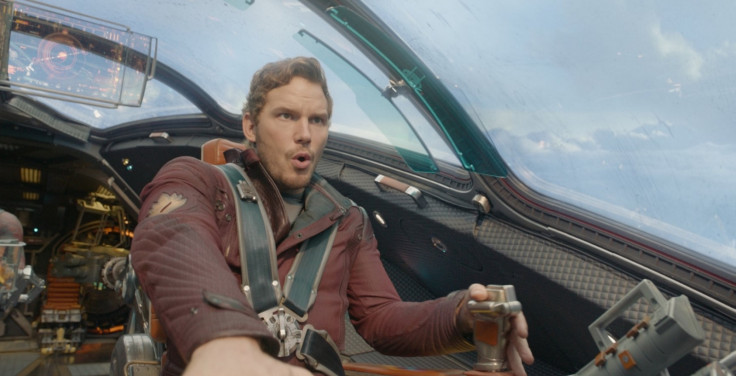 Marvel fans are expecting more thrill and excitement from their favourite cosmic avengers, Peter Quill aka Star-Lord, Gamora, Drax, Rocket Racoon and Baby Groot in Guardians of the Galaxy Vol 2. And, Chris Pratt's latest statement on the movie is surely going to increase the fans' expectation as the actor calls the film 'the greatest movie in the history' ever made.
"On May 5th the greatest movie in the history of movies is coming. There has never been and will never again be a movie like this. Seriously. Ever heard of Citizen Kane? We're much better. Seriously. Our movie just tested at over one million points. Rotten tomatoes already has it at 234% fresh," the actor wrote in the caption of the IMAX poster he shared on Facebook.
The prequel to the film is a surprise blockbuster for Marvels and many thought the unique ensemble of the cosmic superheroes made the film an interesting watch. The superhero films more or less remain out of the premiere award leagues as they are generally considered as money minting machines. But Pratt believes the James Gunn-directed film will win all the awards next year.
"#GotGVol2 will win every movie award AND about 39 Olympic gold medals in swimming, gymnastics, the skiiing event with the gun, x games, snowmobiling and everything. It will win the World Cup and about 7 super bowl rings, sorry TOM Brady. This movie will fry your brains and lift your spirits. James Gunn will be elected president of the world. They will add the faces of the guardians to Mount Rushmore for sure. We're gonna get a planet," he said.
With his over-the-top praise for GOTG 2, Pratt has definitely ignited the excitement for the film. "May 5th will become a national holiday. Everyone will get pregnant. Candy will fall from the sky. Global warming will stop. Dinosaurs will come back to life. Which unlike some movies might tell you, is actually a really good thing. Because they won't flip out and kill people instead they'll be your awesome pets. So basically get your tickets as soon as you can. Don't be the only person on the planet who doesn't see this movie."
The film will explore Peter Quill's parentageas he will meet his biological/cosmological father, the Planet Ego, who has the immense ability of shape shifting. It is assumed that the Ego will help the Star-Lord realise his supernatural abilities to fight off the evil.
The film also stars Kurt Russell, Zoe Saldana, Dave Bautista, Bradley Cooper, Vin Diesel, Michael Rooker, Karen Gillan, and Pom Klementieff. It is set to release in theatres on 5 May.