Liverpool defender Daniel Agger believes the club could greatly benefit from the services of Christian Eriksen, believing the Ajax midfielder to be exactly what his side are missing.
Eriksen has attracted a number of suitors since emerging from Ajax's esteemed youth ranks three years ago. After lifting his third consecutive Eredivisie title with the club last week, there have been a growing number of signals suggesting the 21-year-old is ready for a move to one of Europe's bigger leagues.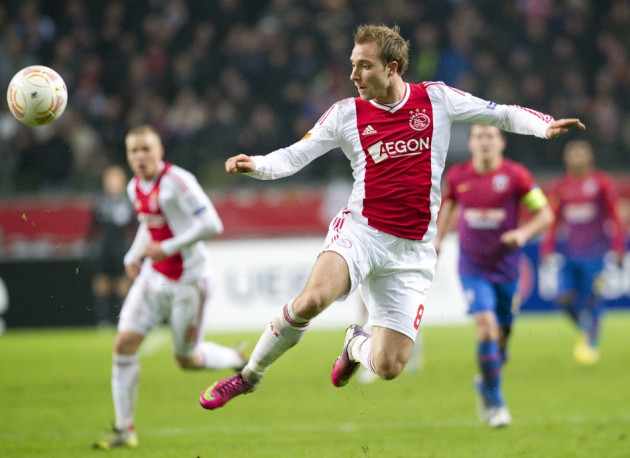 Eriksen recently spoke of a prospective move to Champions League finalists Borussia Dortmund, but Liverpool are another name that remain linked with the midfielder. His fellow Dane Agger would appear to be strongly in favour of a move for Eriksen, and believes his club should be doing everything in their power to bring the midfielder to Anfield.
"We want to play attacking football with the ball on the ground and that is exactly what Christian Eriksen is all about," Agger told Danish publication Jyllands-Posten. "That is the kind of player we need.
"If he plays for a team who want to keep the ball on the ground, then the answer is yes - due to his passing, his runs and his hard work.
"He has to do what he believes is best and no one else but him should decide on his future. You must never listen to anyone else other than yourself."
Agger's call to his compatriot may fall on deaf ears, however, as Eriksen is seemingly infatuated by the prospect of joining Jurgen Klopp's Dortmund this summer. The Danish international, who is contracted to Ajax until the summer of 2014, admits Dortmund's vibrant brand of football and the significantly bigger profile of the Bundesliga in recent years may be enough to convince him of a move to the Westfalanstadion.
"Dortmund are a club where I would like to play," Eriksen said. "I think I would be a good fit there with the football there.
"Dortmund place nice, attacking football. The Bundesliga has never really been my preferred choice and a few years ago I would not even have considered it, but now I do.
"I know there has been contract between the two clubs, and both Ajax and Dortmund have already talked to my agent."