No matter how inventive you are at Christmas, there will always be the lucky few who really do have everything and no number of gift vouchers is going to suffice. If money is no option, you can really raise the present-buying stakes and pick up some truly incredible gifts ranging from cakes embellished with jewels to caviar presented in the most decadent way. There really is no limit to the treasures you can find at Christmas.
With Christmas just around the corner, IBTimes UK has rounded up the most incredible items on offer at the moment for those who truly have it all.
FOR THE CHRISTMAS DINNER TABLE: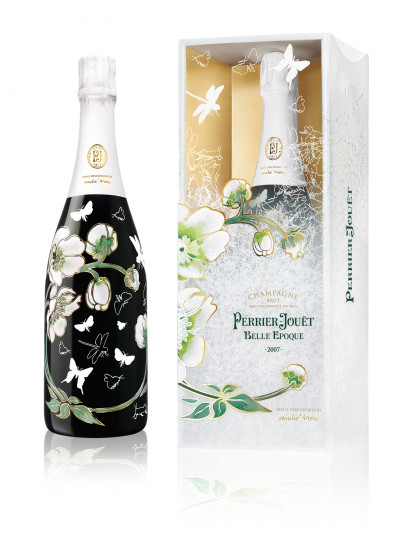 Perrier Jouet Belle Epoque Belle Epoque 'Small Discoveries' the limited edition bottle; £120, Harvey Nichols - Champagne House Perrier-Jouët collaborated with Viennese-based design duo mischer'traxler to create the beautiful "small discoveries" bottle for its 2007 vintage featuring butterflies inspired by Perrier-Jouët's use of nature as well as its Art Nouveau heritage.
Rudolph The Ruby-Nosed Reindeer Tarts - Created By Baker To The Stars; £475, Very First To - Not your ordinary reindeer tart, this is probably the fanciest Rudolph design around created by celebrity favourite baker Georgia Green. The delicious macaron-topped chocolate ganache tart contains a hidden filling of salted caramel as well as a 7.1ct ruby for Rudolph's nose that has been cut, polished and heat treated.
The Decadence Hamper; £20,000, Harrods - This is Henry VIII-style indulgence with an eye-watering amount of lavish tipple to match the equally terrifying price tag. Thirty year old single malts are nestled in with Réviseur Extra Origin Cognac and 1999 Taittinger as well as a cellars worth of wine.
FOR THE HOME: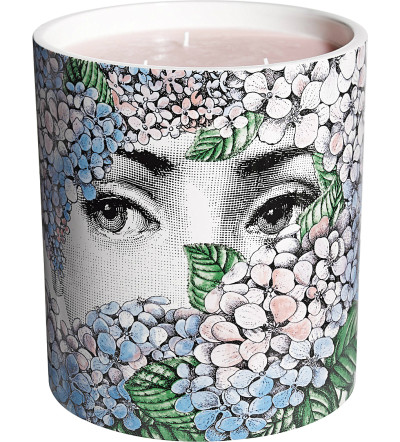 Fornisetti Flora Ortensia large scented candle 1,900g; £380, Selfridges - The signature Fornisetti design gets a floral explosive makeover in this beautiful, enormous candle. Inspired by the hydrangeas of the Fornisetti house in Milan, it will envelope the house with a light, fresh scent.
'MADEMOISELLE' 2015, Acrylic and Gaffer Tape on Paper / 18 x 24; £2,522 ($3,800), Donald Robertson - The darling of the art world, Donald Robertson made the career-changing move to artist from creative developer quite recently and has taken the fashion and art world by storm. Stamping his original style into everything he does, his original pieces are a joy to look at and even more so to own.
Bespoke 'Donovan' backgammon board; £8,600, Alexandra Llewellyn - Alexandra Llewellyn has been creating bespoke backgammon boards for a number of years now extending her repertoire from her signature hand painted designs into this foray in semi precious materials with fine artist Miranda Donovan.
Cashmere cable knit throw; £525, Johnstons of Elgin - Infamous for its insanely soft cashmere, this Johnstons of Elgin throw is the perfect gift for even the fussiest of people. The baby cable design is knitted in Scotland to perfection and is just perfect for winter.
TO WEAR: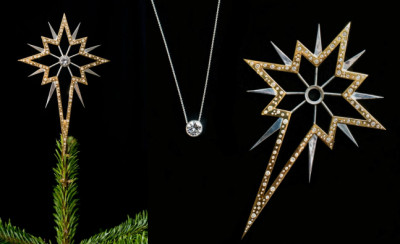 The World's Most Glamorous Christmas Tree Star; £615,000, Very First To - This may seem like just a Christmas tree star but you will definitely want to up your contents insurance if you're decorating with it. The Sterling Silver star is adorned with over 280 diamonds totalling over 12 carats. The most incredible piece is the GIA certified 5 carat D flawless diamond in the centre that can be removed and worn on a necklace. Not one to packed away on January 6th that's for sure.
La Prairie Caviar Spectaculaire; £1,350.00, Harrods - A match made in heaven between La Prairie and Baccarat crystal that sees a healthy serving of the beauty brand's Skin Caviar Luxe Cream nestled in an exquisite Baccarat crystal Caviar server.
GO silk pyjamas; £395, Anya Hindmarch - Forget simple cotton pyjamas at Christmas and treat someone to Anya Hindmarch's luxurious silk designs emblazoned with her whimsical prints. Perfect for wearing inside or outside the house.
Rolex Great White Sea Dweller; £9,890, Christie's Watch Shop - Nothing says luxury than a classic Rolex and anyone would swoon at the Great White Sea Dweller, named so due to the bright white writing on the face. The rich leather strap is a wonderful contrast to the well known Rolex style.
Monogrammed Classic cashmere scarf in check and dots; from £395, Burberry - Quintessentially British as well as luxurious, Burberry's monogrammed scarves are made for everyone. The spots on this season's offerings are a wonderfully playful update to the classic plaid.
FOR THE OPEN ROAD: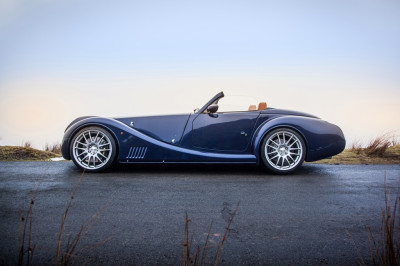 Aero 8 open top; £POA, London Morgan - This is the 5th generation of this iconic model and it has lost none of its charm. Powered by a 4.8 litre V8 BMW engine producing 367 bhp it also has six-speed manual or automatic transmission (with paddle shift) as well as a new hand-sculpted aluminium body and revised interior styling. This is something a little special for someone who already owns every car under the sun. Contact London Morgan directly for more details.
One week exclusive 'off-road' course across Indonesia; £POA, Matt Prior Adventure Academy - One for the adventure seekers, British Military overseas expedition leader and world record holder Matt Prior likes to take people extremely off-road for some of the most incredible trekking and travelling experiences across Indonesia. With parties of just four people, these trips are once in a lifetime.