Christmas is creeping up on us once more, and if you're starting to feel the present-buying panic, rest assured that there is nobody on the planet you cannot find a Christmas hamper for. After all, the best bit about the festive season is the food anyway.
Whether you are shopping for a champagne fan or antipasto enthusiast there is a selection of treats to make even the fussiest person happy. They will even have a beautiful presentation basket to hold on to once everything has been devoured.
From classic woven wicker hinged baskets to beautiful presentation chests, the hamper has become one of the emblems of Christmas. Whether you are looking to spend £50 or £250 we have found the most beautiful hampers out right now for delivery before Christmas.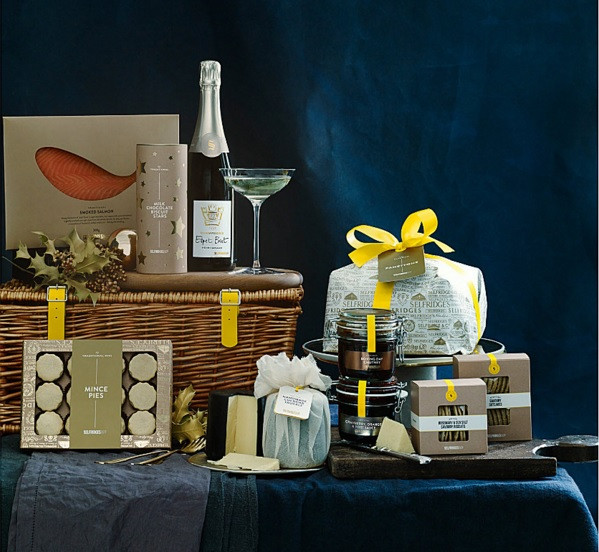 Selfridges Selection – Christmas pantry hamper; £150, Selfridges – This is the ideal Christmas Day selection, packed with champagne, smoked salmon, cheese, chutneys and mince pies.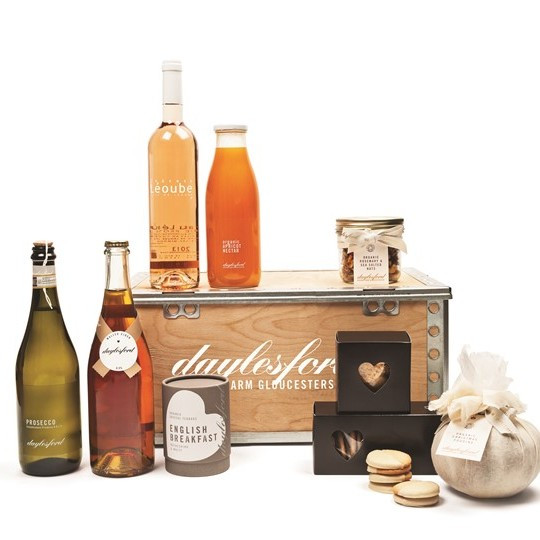 Notting Hill hamper; £125, Daylesford – Beautifully presented in a printed chest, this is brimming with festive treats including mulled cider, apricot nectar and Daylesford's own prosecco, as well as organic Christmas pudding. This is for a real foodie.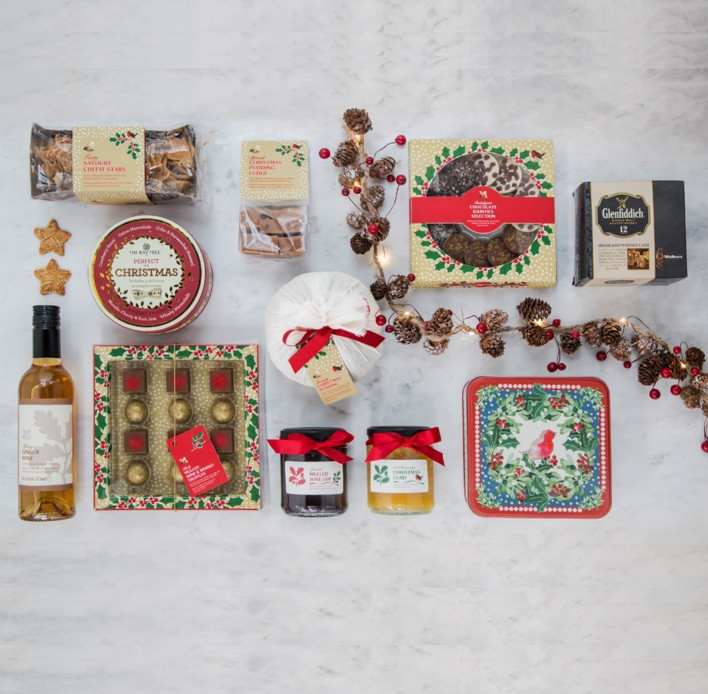 Christmas Feast hamper; £53 (was £80), National Trust – Traditional and adorable, the National Trust hamper is as picturesque as you would imagine. A nostalgic robin biscuit tin is nestled in with signature St Clements curd and chocolate 'dainties' selection and savoury cheese stars for a balance between sweet and savoury treats.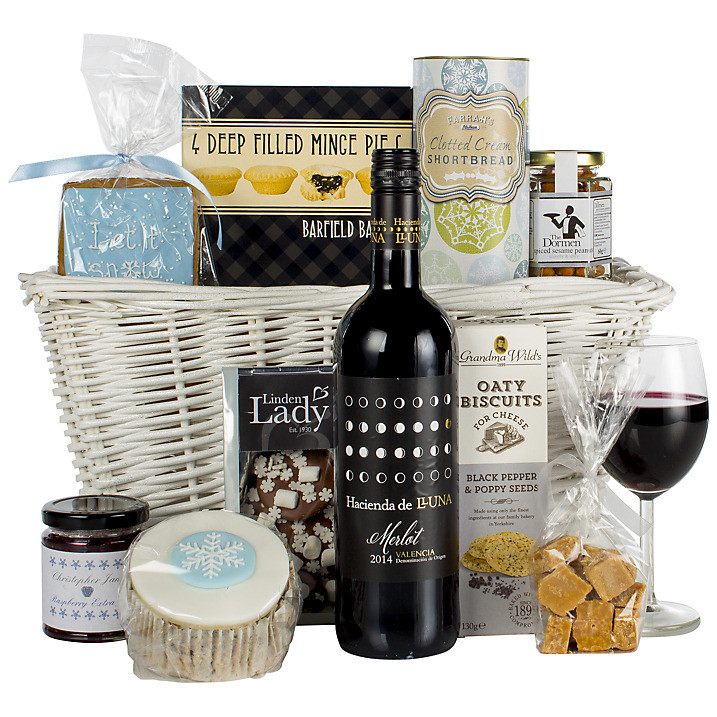 Snowdrift Sparkle hamper; £65, John Lewis – Shaking things up with a white basket, the Snowdrift Sparkle hamper is ideal for someone with a sweet tooth. Mince pies, clotted cream shortbread, fudge and Christmas cake are all there to be washed down with a bottle of Cabernet Sauvignon.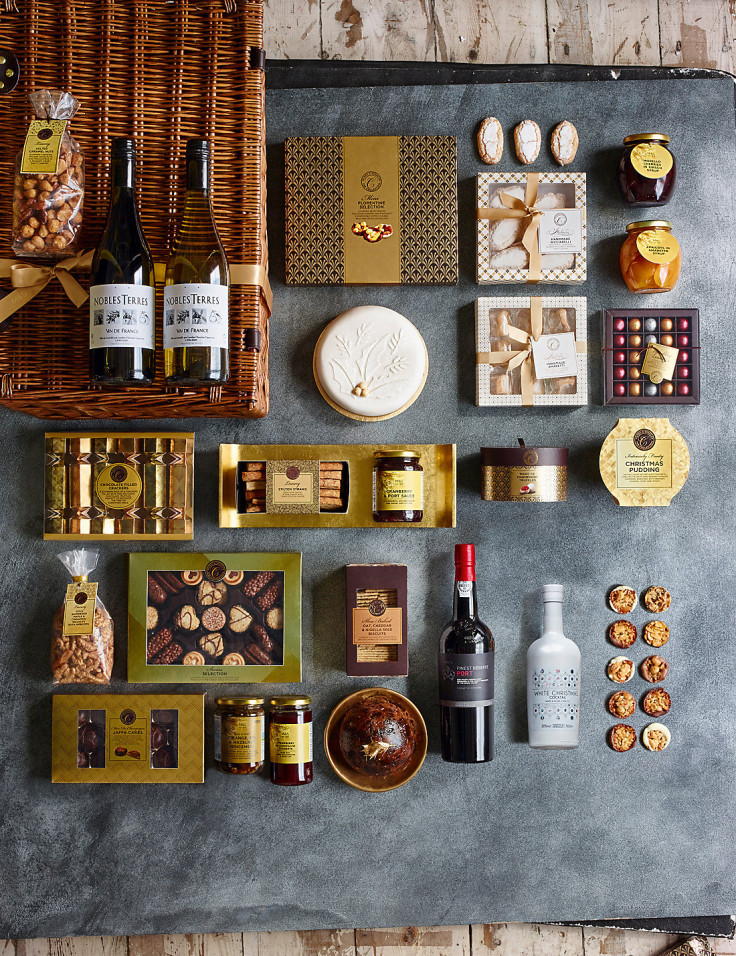 Luxury Festive Celebration Hamper; £250, Marks and Spencer – This hamper is a party in itself, laden with red and white ports, Christmas cocktail mix, Stilton straws and morello cherries in kirsch syrup to name but a few. Perfect to bring to a big Christmas in the country or as a fantastic gift for the host.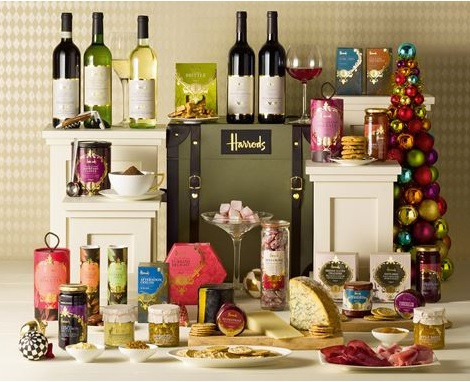 The Montpelier hamper; £295, Harrods – Luxurious before you even open it, the Montpelier presentation is worth the money alone. Open it up to reveal a fantastic range of wines including Merlot, Rioja, Claret, Sauvignon Blanc and Pinot Grigio, as well as coffee and English breakfast tea for the next morning.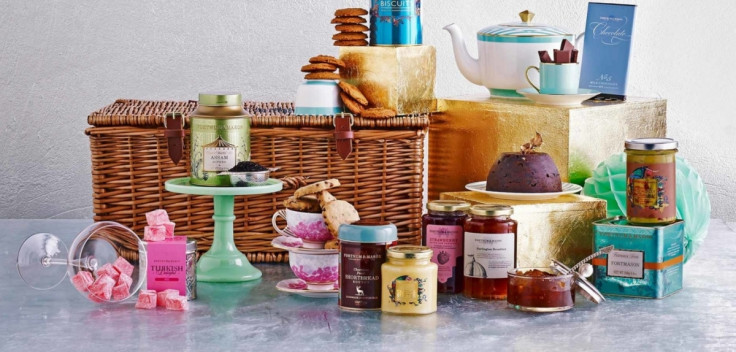 The Fortmason Hamper; £95, Fortnum and Mason – Arguably the king of hampers, Fortnum and Mason create a taste and colour explosion inside their neatly packaged baskets. Beautiful coloured metallic tea caddies are contrasted with baby pink turkish delight and sunny-hued cognac butter.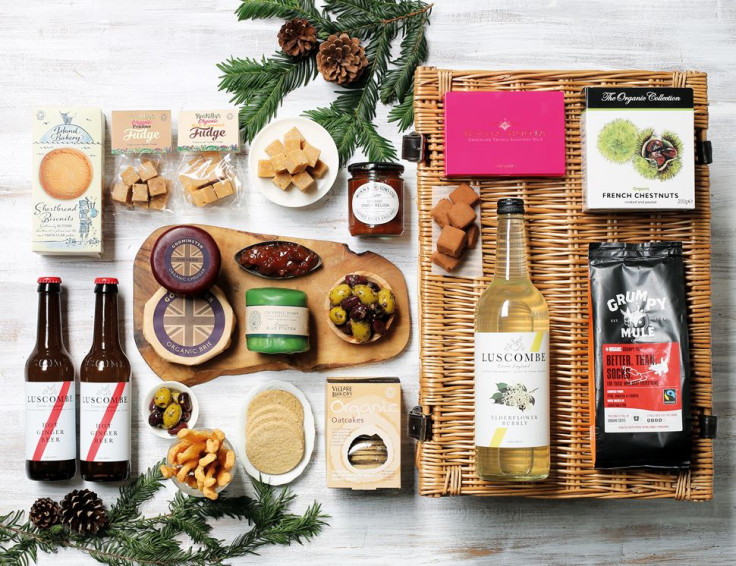 The Jolly Festive hamper; £70, Abel and Cole – Fresh food delivery mavens Abel and Cole are used to delivering beautiful edible packages, and their Christmas offering is no different. A great mix of independent brands including Grumpy Mule coffee and The Real Olive Company kasbah olives as well as a smörgåsbord of chutneys, cheeses and fudge.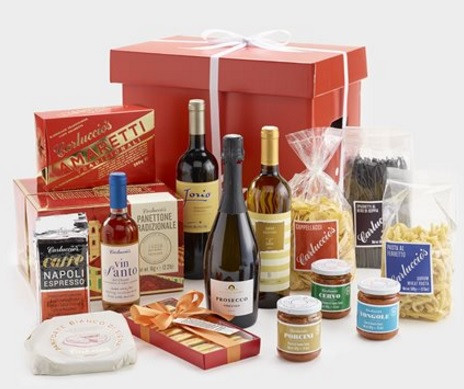 Christmas in Italy hamper; £125, Carluccio's – Ideal for lovers of Italian cuisine, Carluccio's leave nothing out with a hamper that contains everything you need to fill the perfect Italian kitchen. The panettone, ameretti and prosecco are all guaranteed to go the moment this beautiful red box is opened.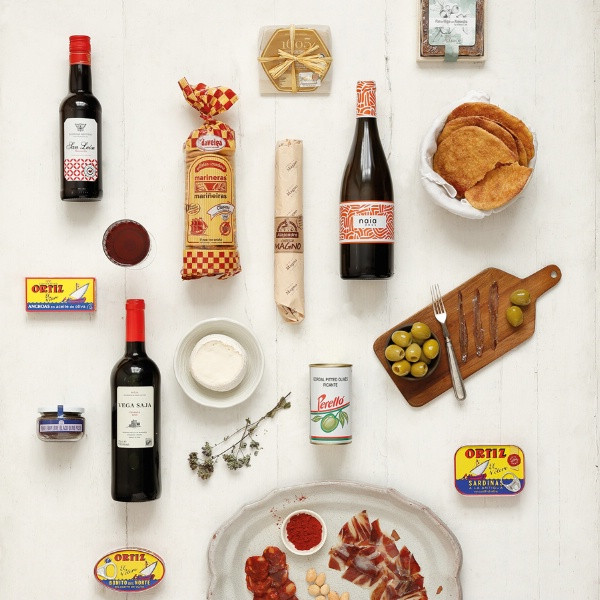 The Gastronome's Box; £100, Brindisa – Something a little different from luxury Spanish food purveyors Brindisa and definitely a winning choice for carnivores. Brindisa iberico bellota hand carved jamon and Alejandro chorizo are served up with Vega Saja Rioja crianza red wine, Naia Verdejo Rueda white wine and San Leon manzanilla sherry. Feliz Navidad!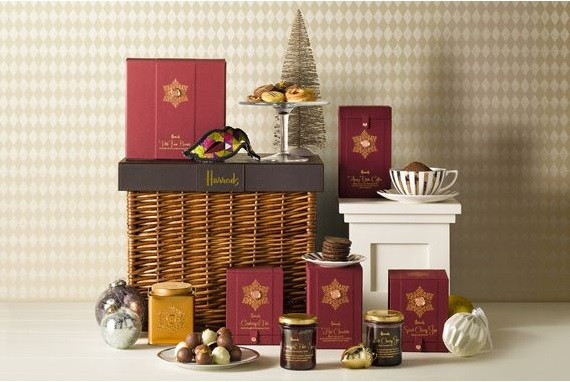 Harrods exquisite collection; £175, Harrods – Another delicious offering from Harrods in a slightly more modest hamper. The exquisite collection is for fans of Harrods' classic produce from beautifully presented black loose leaf Darjeeling tea to Araúz Estate Omni-Grind Panamanian coffee and spiced cherry jam with amaretto. This is a great selection to keep in the cupboard.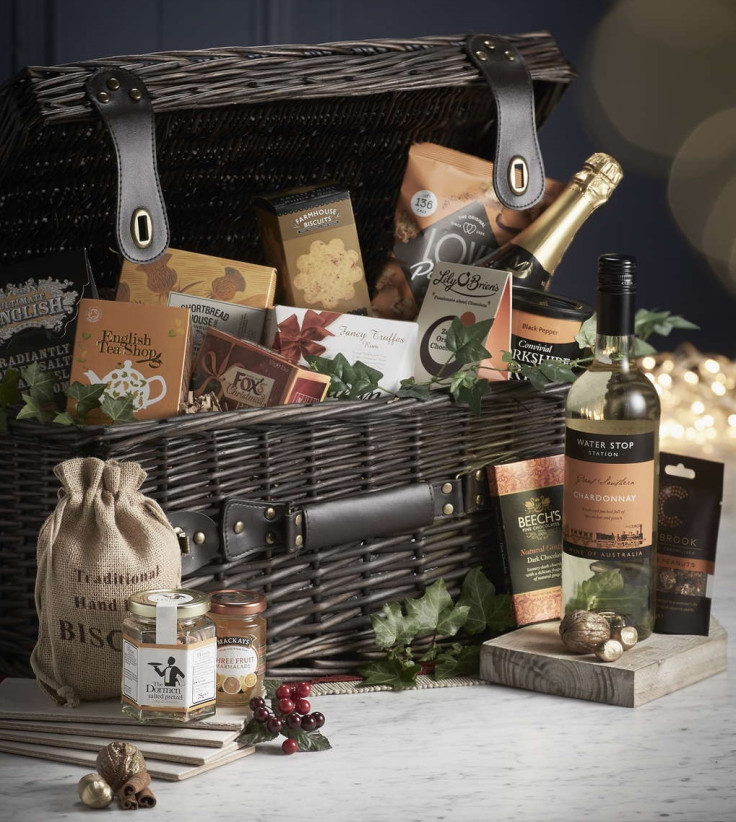 Noble Opulence hamper; £100, BHS – This is worth buying simply for the name alone, but it also contains a great variety of favourites including Lily O'Brien's Zesty Orange Chocolate, Fox's Christmas Pudding and The Dormen Salted Pretzels, all in a beautiful chocolate brown hamper.