Now that the Christmas season is in full swing and the advent calendar doors have flown open, we have the breakdown on how, where and what you should be buying to ensure you end up with the perfect Christmas tree.
Most popular style for real Christmas trees
Whether you're a fan of a real fir or a fake, you'll still have to decide on the style of tree you want. Don't forget to consider that a real fir tree will shed its needle leaves and give off a strong scent.
Norway spruce: Very common in the UK, the Norway Spruce tree has a rich emerald green colour and strong branches. However, be aware of needle drop as they do tend to shed.
Scotch pine: The Scotch doesn't shed needles and stays fresh for longer, so it's relatively low maintenance. However, they are very spiky so not ideal for houses with children.
Balsam firs: These have a dark green colour and have flexible branches so are not really suitable for very heavy ornaments. It keeps its shape well and does not drop many needles.
The Nordmann fir: A favourite in the UK as this tree has soft needles that do not easily shed, and has a glassy dark-green colour that remains healthy for over 4 weeks before beginning to dry.
Most popular style for artificial Christmas trees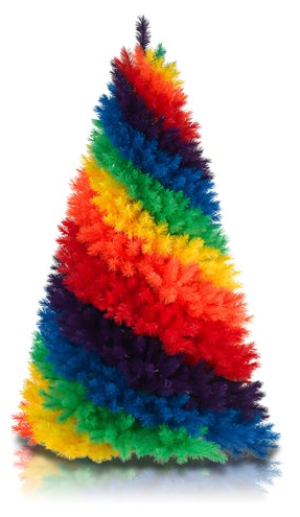 No needle drop or issues with spikes, but as well as selecting the style of tree you want yours to replicate, there still a good few options to think about in the world of fake trees.
Snow tipped: Tree branches frosted or painted with a faux snow effect is a wonderful way to add a rustic effect to your tree, and looks great in conservatories as well as inside the home.
Fibre optic: Branch tips or needles that change colour periodically, a cute alternative to traditional Christmas lights.
Pre-lit: Trees with LED or bulb lights that are attached throughout the branches, perfect for perfectionists or those without time.
Ready decorated: Trees that arrive pre-decorated with baubles and tinsel, great for those with little time.
Colourful: Another playful alternative to the traditional green tree. This year has seen a revisit in the popularity of white and black trees but they are available in everything from silver to rainbow.
What to look out for
When buying a real tree always select an unwrapped tree so you can really see how the branches sit and gauge the true width. Also make sure you give the tree a little shake and check if there is any needle loss; if there is, it is pretty much guaranteed that the tree will shed rapidly as the tree is older and less fresh.
Once Christmas trees have been cut they have begun to die, like flowers, so the longer it has been cut the faster it will begin to wither and brown. The branches should be bendy and the needles glossy as an indicator of freshness.
Check the tree base to ensure you can fit it in a stand. It should be a maximum of nine inches wide. Also beware of bugs and insects that are on the tree as these can be taken into your home.
How to care for your tree
When you get the tree home, saw about 2cms from the base before placing in a tree stand that also has a water reservoir. Make sure the water is topped up and keep the tree away from heat sources like radiators and fires to stop it from drying out. It is essential to stop the tree drying out and becoming a fire hazard. Always make sure lights are switched off when you leave the house as they can also cause a fire.
Where to buy your tree
In London there are plenty of little stalls and pop-ups where you can pick up a tree, from London Bridge to Columbia Road Market - but if you're looking for somewhere that you can check out the goods online beforehand, we recommend the following stores.
Best for real Christmas trees
Pines & Needles: With a number of stores around London you can find trees up to 9ft (and more in selected locations). You can reserve a tree in advance online, as well as schedule same day delivery. They also offer a post-Christmas collection service. Online purchase and delivery available.
Homebase: Stocking real and artificial trees from 1.5ft up to 9-10ft for home delivery and in-store collection, Homebase is also a great place to pick up everything else to decorate the house. Online purchase and delivery available.
The Christmas Forest: There are 10 branches in London offering a range of trees including Norway spruce and Nordmann fir, as well as large tree bespoke orders and wreaths. The store also runs an eco programme that ensures that for every tree bought, a tree is planted in Africa. Online purchase and delivery available.
Creekside Christmas: Sells Nordmann firs and Norway spruces of up to 7ft in their Greenwich and Woolwich markets, and can deliver your chosen one anywhere within the M25 (and indeed beyond). Online purchase and delivery available.
John Lewis: The Christmas favourite have a range of Nordmann Firs on sale as featured in their Christmas advert. Online purchase and delivery available
Good Elf: Online only tree delivery site stocking traditional Norway Spruce and non-drop Nordmann Fir trees with the option to add all the necessary decorations in as one package to make things really easy. Online purchase and delivery available.
Best for artificial Christmas trees
Treetopia: Incredible colourful trees, if you thought you couldn't have that rainbow Christmas tree you dreamed of, you will be pleasantly surprised. They have everything from glittered gold to white flocked mini-trees. Online purchase and delivery available.
Argos: The catalogue store has a great range of trees up to 7ft including traditional Nordic styles as well as pre-lit, colourful, fibre optic and snow tipped to suit every person. They also have a good selection of slimmer trees for smaller spaces. Online purchase and delivery available.
Homebase: A great variety of styles up to 7.5ft that look convincingly like real trees. As well as stocking traditional spruce and fir styles they also offer these trees complete with lights, snow covered detailing and slim fits. Online purchase and delivery available.
John Lewis: Beautiful snow tipped trees are a winner from John Lewis as well as a wide range of traditional-style artificial trees that go all the way up to 9ft. Their berry embellished selection are a particular highlight. Online purchase and delivery available.
XmasDirect: Wide range of traditional looking trees as well as varying shapes and sizes for restricted spaces. Online purchase and delivery available.
Selfridges: Running with their Christmas theme of astrology and space they have selected their artificial trees accordingly with stark black and white artificial styles as well as a fantastic range of lighting to finish off the decorations. Online purchase and delivery available.
Recycling Christmas trees
When Christmas is over remember to recycle your real tree. You can contact the council to help you do this easily.