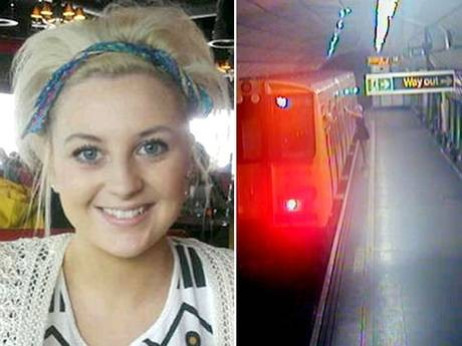 A railway guard has been jailed for five years for causing the death of a drunk 16-year-old girl who got dragged underneath a train at a Liverpool Station.
Christopher McGee, 45, was found guilty of the manslaughter of Georgia Varley after he signalled that a train on which she was leaning could pull out of a platform.
The 16-year-old died after she fell between the train and the platform as it moved away on 22 October 2011.
CCTV footage showed an intoxicated Georgia mistakenly getting off a train at Liverpool's James Street station at around 11:30pm, and leaning against a window when she realised her friends were still on board.
McGee then gave the signal for the train to leave. The Birkenhead Sixth Form College student could then be seen staggering before falling off the platform. The train eventually stopped moving after around 30ft (9m)
McGee denied the manslaughter charge, but a judge at Liverpool Crown Court said he showed an "appalling disregard" for the girl's safety and sentenced him to five years.
McGee, who had worked as a guard for Merseyrail since 1992, said he thought the 16-year-old was moving away from the train when he gave the signal to depart and did not know how drunk she was.
Georgia was three times over the legal drink-drive limit and had 0.083mg of the drug mephedrone, or Mcat, in her system at the time of her death.
On passing sentence, Mr Justice Holroyde said: "In my judgment, the CCTV footage is unequivocal, Georgia Varley was not moving away and she was not showing any sign of moving away.
"She only moved when the movement of the train deprived her of support and caused her to lose balance and fall to her death.
"I am satisfied that you merely hoped and assumed she would get out of the way when the train began to move, and on that wholly inadequate basis you took a terrible risk."
"Georgia's life was ended in a dreadful way at the age of just 16 by your gross negligence.
"You did not intend to kill or even injure her, but you displayed an appalling disregard for her safety, and she paid for your criminal negligence with her life."
Speaking after the verdict, Georgia's mother Paula Redmond, 41, described her daughter as "wonderful".
She added: "We have listened as our daughter was portrayed as being a drunken liability when, in all honesty, she did no more than what many teenagers do of a weekend - she went out to celebrate her friend's birthday.
"The only liability that night was a train guard whom Georgia had the catastrophic misfortune to encounter, for he had very little, if any, regard at all for our daughter and her safety."