Chuka Umunna has stopped his political shadow boxing and announced his bid to become the next Labour leader after setting out his stall over the weekend.
The move comes after the shadow business secretary gave a glimpse of his intention to run for the top job when he wrote an analysis of Labour's general election defeat in The Observer and appeared on the BBC's Sunday Politics.
He argued his party needed to become "a big tent again" and claimed Ed Miliband's campaign failed to win over the middle classes because of little talk about ambition in the run up to 7 May.
The former lawyer has been tipped as a future prime minister and now he has made his election campaign official, Umunna's ambition to enter Number 10 is one step closer.
The 36-year-old stormed to victory at the general election to win back his Streatham seat and increase his share of the vote from 42.8% to 53%.
But the University of Manchester graduate's success in London did little to soften the blow of Labour's overall defeat, which saw the Tories secure a shock majority in the House of Commons and the red party lose 24 seats.
He told IBTimes UK at the time that he was "fully behind" Miliband but the Labour leader later resigned and said he took "full responsibility" for the result, triggering a leadership contest.
Chuka Umunna looks to the future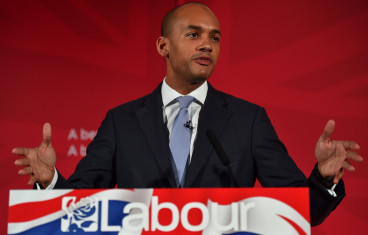 Umunna took to social media site Facebook on 12 May to make his leadership announcement, where he spoke to Labour's defeated candidate for North Swindon, Mark Dempsey.
The Labour candidate said on video that he wanted to get out of London and find out what went wrong in his party's campaign. He then revealed his intention to run.
"I think we can and we should be winning in seats like in Swindon. North, south, east and west – we can absolutely do it as a party," Umunna declared.
The shadow business secretary also argued that Labour's former home secretary, Alan Johnson, who claimed it would take 10 years to get the party back into power, was wrong.
Umunna said: "Some have actually suggested over the last few days that this is actually a 10-year project to get the Labour Party back into office.
"I don't think we can have any truck with that at all. I think the Labour Party can do it in five years. I want to lead that effort as part of a really big Labour team, getting Labour back into office and changing this country - building a fairer, more equal society."
Elsewhere, the shadow minister for care Liz Kendall is the only other Labour MP to announce her leadership bid. But Tristram Hunt, Andy Burnham and Yvette Cooper are also expected to throw their names in the hat in the coming weeks.