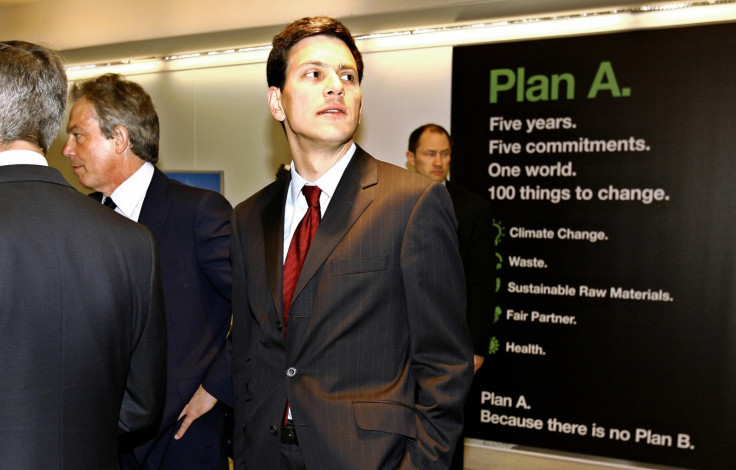 Former foreign secretary David Miliband has criticised his brother's bid to become prime minister after he ruled himself out of the Labour leadership race.
Miliband, who stood aside from front-line politics after losing the 2010 Labour leadership contest to Ed, said his party should not blame the electorate for Labour's loss because "they didn't want what was being offered".
The CEO of International Rescue Committee told the BBC: "Both in 2010 and 2015 Gordon Brown and Ed allowed themselves to be portrayed as moving backwards from the principals of aspiration and inclusion that are the absolute heart of any successful progressive political project.
"The answer is not to go back, the answer is to address the issues of the future. Either we build on what Labour achieved after 1997 and we have a chance to succeed, or we abandon it and we fail."
David has remained relatively silent after he moved to the United States to take up his high-profile charity position.
But his intervention came after the Tories secured a shock victory at the general election and Ed subsequently resigned as the leader of the opposition, triggering a contest for the top Labour job.
David revealed he was "clearly not a candidate" in the forthcoming election and spoke out against some of the personal attacks against his brother made during the general election campaign.
"I think many of the attacks on him were unpleasant and unfair and I think he dealt with them with enormous dignity and courage," he said.
As for the current state of his relationship with his younger sibling, David did not disclose much. "You remain brothers for life and that's something that has to be kept," he said.
Mandelson critical of Ed Miliband's positioning of Labour
David's criticism is similar to that of Labour former business secretary Peter Mandelson, who argued Ed should have built – not moved away from – New Labour.
"We were sent off in 2010 on a sort of giant political experiment in which we were sent out and told to wave our fists angrily at the nasty Tories and wait for the public to realise how much they had missed us," Mandelson told the BBC's Andrew Marr show. "They weren't missing us. They didn't miss us. Instead they ripped the stripes off our shoulders."
The party was dealt another blow on 11 May after Lord Sugar announced his plans to quit the party. The Apprentice star said he was prompted to make the move because of Labour's "negative business policies".
"In the past year I found myself losing confidence in the party due to their negative business policies and the general anti-enterprise concepts they were considering if they were to be elected. I expressed this to the most senior figures in the party several times," Sugar explained.
Shadow Minister for Care Liz Kendall is so far the only official candidate for the Labour leadership, after revealing her intentions to stand over the weekend. But the likes of Chuka Umunna, Tristram Hunt and Andy Burnham are also expected to run.