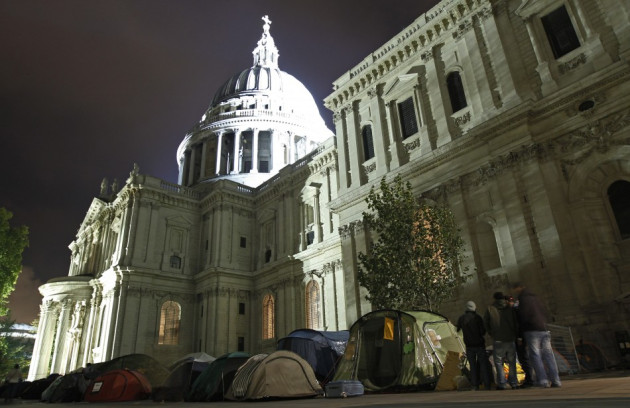 The City of London has temporarily abandoned legal action against the Occupy London protest following St Paul's decision to pull back from the brink of a legal battle.
In a complete reversal from just two days ago, when both the Corporation and the Church seemed poised to take legal action against the protesters, it now appears that the courts will not be involved at all.
Stuart Fraser, Policy Chairman of the City of London Corporation, said:
'Our objective is to ensure the highway is cleared and this issue is resolved peacefully. The church has changed its position with regards to a camp being on its land, which means that we have had to rethink as well.
"We have pressed the pause button so that discussions can take place with protesters and others on how we can resolve the problem we face as a local authority - namely camping on the public highway."
The statement represents a moral victory for the anti-capitalist protesters, who had said that they were prepared to fight the case all the way to the High Court. But fearing scenes similar to the ones at Dale Farm last month, where gypsies were forcibly moved from their homes in Essex, the Church stepped back and it seems that the City has done the same.
Fraser said: 'The situation - as in any City - involves a lot of different voices: for example, we are now receiving complaints from other City users that they are being impacted: some businesses are worried and some residents have complained. Some City workers have also asked why a campsite is being allowed to continue."
He warned however, that it was still against the law to block the public highway and that the corporation may look to sue at a later stage.