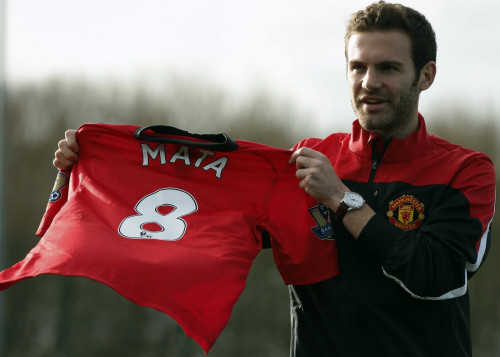 Alvaro Negredo claims that Juan Mata's move from Chelsea to Manchester United is not unfair on rivals despite Manchester City boss Manuel Pellegrini and Arsenal's Arsene Wenger recently complaining about the deal.
Both coaches criticised the £37m transfer that saw Mata move from Stamford Bridge to Old Trafford, considering it unfair for the Blues to strengthen a rival – especially considering that City and Arsenal have still to play against United in the second half of the season while Chelsea do not.
However, when asked in an interview with Spanish radio station Cope if he has the same opinion as his manager he said: "I cannot see anything wrong in the deal. Teams are used to signing in the January transfer window and when a footballer does not play regularly they always want to move away."
"Obviously it could be bad for us because we have to face Manchester United in the second half of the season but the rules are the same for all the teams, all teams can sign (players).
"Chesea have had the luck to not have to play against Mata because they have already played both games against United while we still have to face them".
"Mata is a very good player, he is very talented but we also have a lot quality in our squad," Negredo added.
At the same time, the City striker wishes the best for Mata because although the new Red Devil signing is going to be an enemy on the pitch he is still his friend.
"Juan is my friend, we know each other for many years and I always want the best for him. I wish him the best as a player. It is true that he goes to our city opponent and he will be beneficial for them but this transfer happens at all the clubs, it is normal that the teams strengthen their squads."
Negredo's opinion differs from the one expressed by his manager Pellegrini recently, following the confirmation of Mata's move to Old Trafford.
"United are getting a very good player, but personally I do not agree that a transfer like this can happen in the middle of the season. I do not think a player should be allowed to go from one club to another in the same league in January."
Meanwhile, Arsenal boss Arsene Wenger also questioned the fairness of the January transfer window.
"Maybe the rules should be adapted for more fairness. It opens up questions about the dates of this transfer window. If you want to respect the fairness for everybody, that should not happen. Some teams have already played twice against one opponent and some others not."