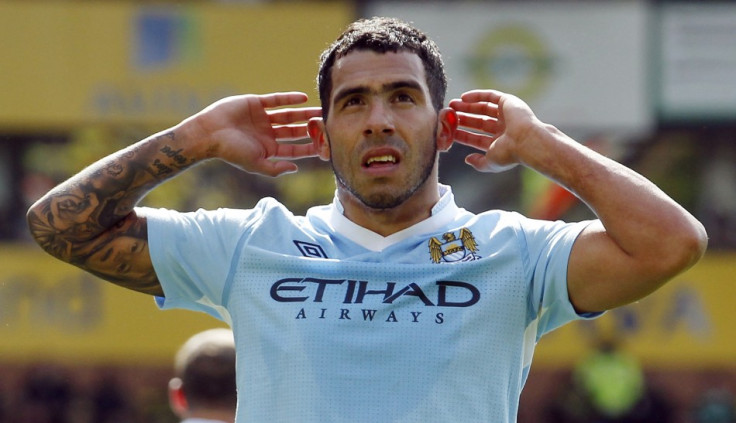 Controversial Manchester City striker Carlos Tevez seems to have returned to his old tricks, after refusing to apologise to Manchester United boss Sir Alex Ferguson. The Argentine was photographed holding a banner that read: "RIP Fergie" during the club's victory parade on Monday, after winning their first league title in 44 years.
City officials immediately apologised to Ferguson and the Red Devils but the 28 year old player has refused to follow suit.
"It seems like Ferguson is the president of England. When he speaks badly about a player, nobody says he has to apologise but when someone comes out with a joke, you have to say sorry. I don't say sorry," the BBC reported Tevez as saying. The Argentine also claimed his former boss said worse things about him in the past. A report in the Telegraph quoted Tevez as saying there was no relationship between the two of them.
Interestingly, the striker seems to be contradicting himself.
"I got carried away in the excitement of the moment and I certainly didn't mean any disrespect to Sir Alex Ferguson, who I admire as a man and a manager," he was quoted as saying, in the immediate aftermath of the incident, in a report by the Daily Mail.
There was some confusion as to how Tevez actually got the banner since he did not have it with him when he boarded the team bus. It now appears the banner actually belonged to a Sue Bradsell, 52, who was quoted by The Sun as saying Tevez literally begged her to pass the sign to him.
"He was leaning over the side of the bus, obviously trying to reach for this poster and begging the crowd to pass it to him. I didn't know what was on it at the time. I just saw that he was keen to get hold of it, so I grabbed the sign and shouted out 'Tevez' and he took it off me and smiled," she explained.
Meanwhile, and fortunately for Tevez, United seem to have dismissed the incident after City's apology.
"It was silly and inappropriate but City acted with commendable speed to say sorry," David Gill, United's Chief Executive, said, according to the BBC.
Tevez spent two seasons with Manchester United, where he won two Premier League titles and a Champions League medal, before moving to City in 2009.