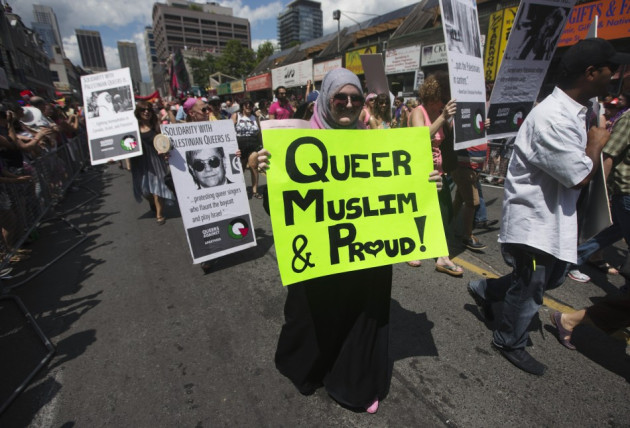 A couple have made legal history by becoming the first Muslim lesbians to enter into a civil partnership in the UK.
Rehana Kausar, 34, and Sobia Kamar, 29, from Pakistan, both dressed in white bridal gowns, were joined by friends for the ceremony at Leeds Registry Office earlier this month.
The couple claim they have received numerous death threats since becoming civil partners, and have applied for political asylum, claiming that they would be at risk of persecution if they were to return to Pakistan.
Ms Kausar, originally from Lahore, told the Birmingham Mail: "This country allows us rights and it's a very personal decision that we have taken. It's no one's business as to what we do with our personal lives."
The couple met in Birmingham whilst studying business and health care management, and then moved in together in South Yorkshire.
Many scholars of Islamic, or Shariah, law argue that homosexual relationships are proscribed by the Koran and ought to be punished.
In some Islamic countries, including Saudi Arabia, homosexuality is punishable by death.
In Pakistan, homosexuality is against the law, and homosexual marriages are not legally recognised.
"The problem with Pakistan is that everyone believes he is in charge of other people lives and can best decide about the morals of others but that's not the right approach and we are in this state because of our clergy, who have hijacked our society which was once a tolerant society and respected individuals' freedoms," said Ms Kausar.
The couple initially wanted an Islamic ceremony, or nikah, but could not find an imam willing to conduct one for them.
A relative said: "They have been very brave throughout as our religion does not condone homosexuality. The couple have had their lives threatened both here and in Pakistan and there is no way they could ever return there."
Tris Reid-Smith, editor of Gaystar News, said: "This appears to be a landmark event and I don't know of any other Muslim lesbians to have been married in the UK."
A number of Muslim leaders have condemned the UK's gay marriage bill, which would allow homosexuals to get married, not just to form civil partnerships, and is currently being debated by parliament.
Muslim MP Sadiq Khan, the shadow justice secretary, received death threats when he voted in favour of the bill in February.