Alabama Senator Jeff Sessions underwent two days of attorney general confirmation hearings that delved into his past and his potential relationship with the president if he is confirmed. The former Alabama attorney general was questioned over allegations of racism, his views on women, same-sex marriage and immigration.
Sessions' confirmation hearings included hours of questioning and the impassioned pleas against his confirmation by a fellow senator and two sitting Congressmen. The Republican senator was forced to defend his record on race, denounce the Ku Klux Klan and promise to uphold laws he has fought to dismantle in the past.
IBTimes UK takes a look at the key highlights from the two days of the attorney general hearings.
On race
Sessions has been considered a contentious choice for attorney general. According to NPR, a Republican-controlled Senate rejected his nomination to a federal judgeship in 1986 after he made racially insensitive comments and called the NAACP and the American Civil Liberties Union (ACLU) "un-American". He also joked he was OK with the Ku Klux Klan until he discovered they smoked marijuana.
"I did not harbour the kind of animosities and race-based discrimination ideas I was accused of. I did not," he claimed. Sessions insisted that his remarks about the NAACP were taken out of context. "There was an organised effort to caricature me as something that wasn't true," the senator said. "I didn't know how to respond and didn't respond very well."
Leaders from both the NAACP and the ACLU were given a chance to respond to Sessions during day two of the hearings. NAACP President and CEO Cornell Brooks said Sessions was "unfit to serve as attorney general."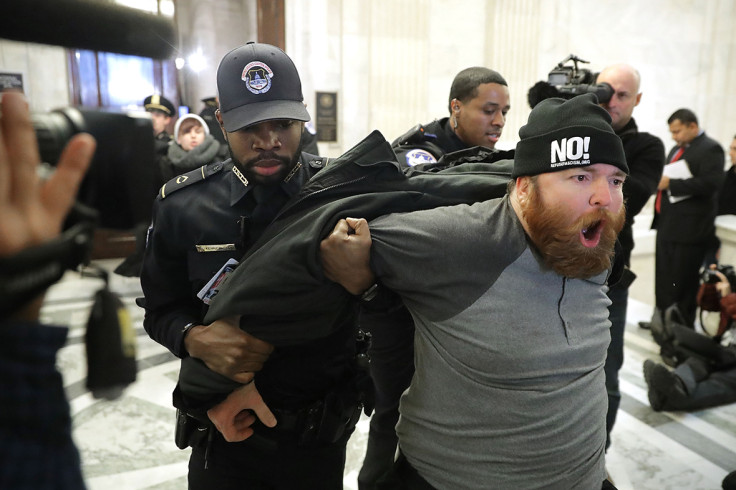 "Senator Sessions' record reveals a consistent disregard to civil and human rights of vulnerable populations, including the African-Americans, Latinos, women, Muslims, immigrants, the disabled, the LGBT community and others," Brooks said.
Clinton investigation
Senate Judiciary Chairman Chuck Grassley asked Sessions how he would address concerns about impartiality in any investigations of Hillary Clinton, given his remarks about the integrity of the FBI's investigation. Sessions responded he would recluse himself.
"With regard to Secretary Clinton and some of the comments I made, I do believe that could place my objectivity in question," he said. "I believe the proper thing for me to do would be to recuse myself from any questions involving those kind of investigations that involve Secretary Hillary Clinton."
On abortion
On day one of his hearing, Sessions promised that he would respect laws allowing abortion, despite his personal beliefs. According to CNN, the senator said he would respect the Supreme Court's decision in Roe v Wade, although he believes the decision violates the Constitution.
Sessions has consistently voted against abortion rights and holds a 0% rating from abortion rights groups, CNN reported. "It is the law of the land, it has been settled for some time," he said. "I will respect it and follow it."
However, he maintained he believes the decision was a "colossal" mistake by the Supreme Court. President-elect Donald Trump has said he plans to nominate justices to the Supreme Court who want to reverse Roe v Wade. "I'm pro-life. The judges will be pro-life," Trump told CBS after winning the election.
Booker, Lewis and Richmond urge Senate to reject Sessions' confirmation
New Jersey Senator Cory Booker became the first sitting senator to testify against a fellow senator during a confirmation hearing when he claimed Sessions' record shows he will not protect women, people of colour, LGBT communities, immigrants or voting rights. Booker was joined by Congressmen John Lewis of Georgia and Cedric Richmond of Louisiana.
"He will be expected to defend voting rights, but his record indicated that he won't. He will be expected to defend the rights of immigrants and affirm their human dignity, but his record indicates that he won't," Booker said.
According to NPR, he concluded with a call to rally against injustice: "The arc of the moral universe does not just naturally curve toward justice. We must bend it."
Lewis, a civil rights leader who marched with Martin Luther King Jr from Selma to Montgomery, Alabama in 1965, cautioned against Sessions' demeanor. "It doesn't matter how Sen Sessions may smile, how friendly he may be, how he may speak to you," he said. "We need someone who's going to stand up, speak up and speak out for the people that need help."
Richmond, the chairman of the Congressional Black Caucus, also spoke on Sessions' record and said he "has advanced an agenda that will do great heard to African-American citizens and communities."
Sessions was later defended by several black conservatives, The New York Times reported. Larry Thompson, a friend and former colleague of Sessions', said the senator had "a commitment to both strong law enforcement and equal justice for all."