US President-elect Donald Trump held his first press conference since being elected at Trump tower on Wednesday (11 January). Back in Washington DC, his Attorney General pick, Jeff Sessions, and his Secretary of State pick, Rex Tillerson faced questions before senate committees as Trump took to the stage in front of numerous journalists.
Alongside battling journalists and refuting allegations released in unverified memos published on Tuesday (10 January), Trump made a number of announcements suggesting policy positions and tracks he would take when he takes office on 20 January.
Here are the major quotes from the day:
"As for hacking, I think it was Russia."
This seems to be Trump's first admission that he accepts US intelligence findings that Russia hacked the Democratic National Committee and that subsequent releases through Wikileaks originated from Russian orders.
Though he did backtrack fairly quickly afterwards, saying "but I think we also get hacked by other countries and other people" before mentioning past hacking by China – something other members in Trump's circle have done in interviews, including Jeff Sessions during his senate hearing, suggesting it is a diversion tactic.
"That's something that Nazi Germany would have done and did do."
Trump did not shy away from allegations made in unverified memos released by Buzzfeed on Tuesday. An argument broke out between CNN's Jim Acosta and the President-elect after Trump called the memos "false and fake". Acosta demanded to ask a question after his news organisation, which reported that intelligence officials had briefed both Trump and President Obama on the memos, was "attacked". Trump called CNN "fake news."
He then added to an already fraught relationship with the US intelligence community by saying it was "disgraceful that the intelligence agencies allowed any information that turned out to be so false and fake out" before likening the situation to Nazi Germany, something he had also done in an earlier Tweet.
"I want to get the wall started."
The wall is going ahead soon, Trump said, arguing that news stories claiming that Congress rather than Mexico would be paying were misleading as the US' southern neighbour "will reimburse us for the cost of the wall". Trump suggested that negotiations with Mexico could take 18 months. "I don't feel like waiting a year or a year-and-a-half" he said.
As for how he plans to get the reimbursement from Mexico, Trump mooted that it would be a tax or a payment but added that it's "probably less likely that it's a payment".
"It will be repeal and replace. It will be essentially simultaneously."
Obamacare, Trump said, "is a complete and total disaster", adding that they could easily let the system "implode in '17" and then "get pretty much whatever we wanted" but that would "take a long time". Instead Trump said that the Affordable Healthcare Act (ACA) would be repealed and replaced "essentially simultaneously": it will "will most likely be on the same day or the same week, but probably, the same day, could be the same hour," he said.
Backing repeal and replace puts Trump at odds with some Republicans who are pushing to essentially repeal Obamacare through the government's annual budget straight away, though that plan has been roundly criticised, with many supporting Trump's position of having a replacement ready to go as soon as the ACA is repealed.
"My two sons, who are right here, Don and Eric, are going to be running the company."
The Trump Organization is now being led by the President-elect's sons, Don and Eric, and "they are not going to discuss it with me," he said. Along with Trump stepping away from the business, his daughter Ivanka will also have no involvement.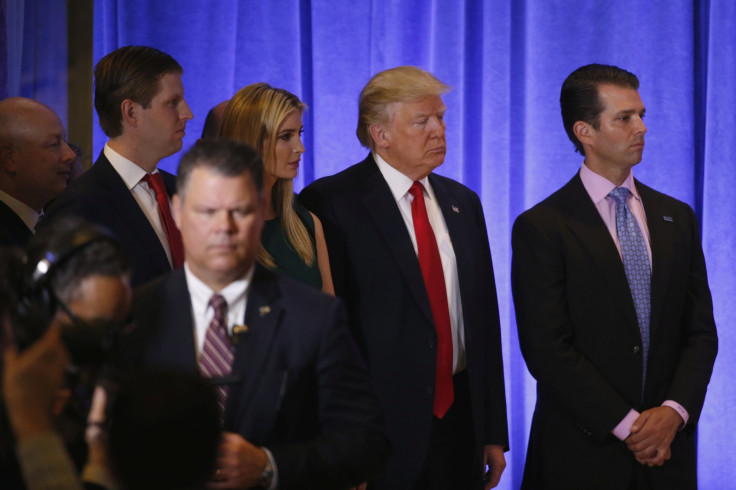 The organisation will also gain an "ethics advisor", according to background material provided by the transition team. All actions would require the written approval of the ethics advisor, the documents stated.
The head of the Office of Government Ethics was quick to criticise the plan, calling it "wholly inadequate" and adding that "stepping back from running his business is meaningless from a conflict of interest perspective."
"We've got to get our drug industry back."
The drug industry looks like a new point of call for the Trump economic plan. Trump has been calling out industries that are moving manufacturing outside of the US and lauding his success – though whether or not decisions to stay are down to the Trump effect is up for interpretation.
Trump's announcements do have an immediate effect in the financial world though. As he made his comments about the drug industry, stocks dived – echoing similar experiences some companies have had in response to Trump's tweets.