Hundreds of thousands of supporters of Turkish President Recep Tayyip Erdoğan gathered in Istanbul's Yenikapi parade ground in a culmination of three weeks' protest against the failed military coup on 15 July. Erdoğan, who named the event the Democracy and Martyrs' Rally", continues to insist he will smash the so-called network of Güen supporters in the country as his government dismissed Western criticism of human rights abuses in the wake of the violence.
Ahead of the rally, Erdoğan called on ordinary Turks to gather at the Yenikapi carrying the Turkish flag rather than party flags.
"There we will stand together as a single nation, a single flag, a single motherland, a single state, a single spirit," said Erdoğan, according to Haaretz. Even opponents of Erdoğan attended the rally to demonstrate their opposition to the attempted takeover by the military and Güen himself, who Erdoğan wants extradited from the US.
"Erdoğan has been brutal and unfair to us in the past, but I believe he has now understood the real importance of the republic's values," musician Ilhan Girit, 44, told Reuters.
Since the failed coup, in which around 270 people died, there has been a huge clampdown by the Erdoğan government. Thousands of military personnel and others have been arrested tens of thousands removed from their posts, media outlets closed down and allegations of torture and rape are being investigated. The Turkish government claim the West are more concerned about the crackdown than they were about the violence of the plot attempt itself.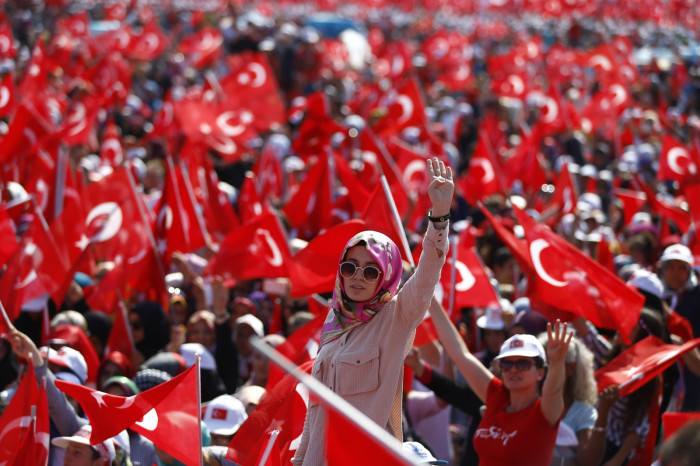 The Turkish government are particularly angry about comments by German politician Christian Lindner in which he drew parallels between the events in Turkey and the Reichstag Fire of 1933 at the dawn of the Nazi era. "We are experiencing a coup d'etat from above like in 1933 after the Reichstag fire," the Free Democrats (FDP) leader told Bild. "He is building an authoritarian regime tailored solely to himself."