Tottenham Hotspur midfielder Clint Dempsey says the club are looking to beat Manchester City into second place in the Premier League during the remainder of the campaign.
Dempsey, who scored twice in the win over Coventry City in the FA Cup third round on Saturday, has helped Tottenham into third place in the Premier League table, where they trail champions City by six points.
And with 17 games remaining, Dempsey says Tottenham are eyeing second spot to help cement Champions League qualification for next season.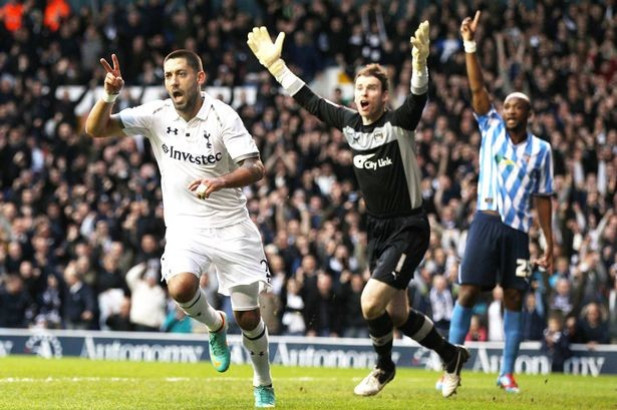 "That's the goal," said Dempsey. "Everybody wants to be pushing for great things.
"There's a lot of talent here. It's great to be part of this team and it's about doing something special this season. We want to do well in all the competitions we remain in.
"We want to finish in a position that qualifies us for the Champions League and hopefully we can do that."
"Everybody wants to be pushing for great things and doing something special in their careers. We have the quality in our team and there's no reason why we shouldn't think that.
"We need to continue on this good run of form and get as many points as possible. You want to keep your feet on the ground and know there's a lot of hard work to put in if you want to accomplish your goals."
Tottenham face a run of games where they can feel confident of eroding City's lead, with trips to Queens Park Rangers, Norwich City and West Bromwich sandwiching a home game with Manchester United.
Should Emmanuel Adebayor travel to the Africa Cup of Nations with Togo, Dempsey will play an important role in the coming weeks for Tottenham and the American says he's coming into his best form at the right time.
"My season is going OK. I've got six goals and I think five assists in all competitions now, so it's starting to look better," Dempsey added.
"I'm someone who likes to score or get assists so it's good to be getting those stats up, contributing and trying to help this team do well. It's going well but I still want to be better at what I'm doing."